By Sarah de Sainte Croix, Senior Contributing Reporter
RIO DE JANEIRO, BRAZIL – Last week the Federal Government announced funding of R$1.63 billion (around US$1 billion) to finance the development of two key transportation projects in Rio de Janeiro ahead of the 2016 Olympic Games. These projects are the construction of a Bus Rapid Transit (BRT) line on Avenida Brasil, known as the "Transbrasil" and the Light Rail Transit (LRT) line in Centro.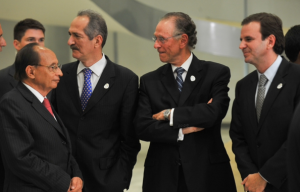 President Dilma Rousseff and Rio's Mayor, Eduardo Paes, made the announcement on March 12th during an official visit to the Transcarioca (Galeão Airport to Barra) BRT works.
The funding will be released from the Program for Accelerated Growth's (PAC) Urban Mobility budget. In total Brazil's PAC 2 Transport sector is set to receive investments of R$104.5 billion from 2011 – 2014.
With an estimated total cost of R$1.3 billion and a 36-month predicted construction time-frame, Rio's Transbrasil has been has been awarded R$1.129 billion from the Federal Government. The City Government will contribute the remaining R$171 million.
For the Central LRT, whose cost is R$ 1.1 billion, the Federal Government will finance R$500 million, and the remainder will be funded through a Public Private Partnership (PPP).
The Transbrasil will form part of a new, four-line, High Performance Transportation Ring, which aims to expand the high-capacity transportation coverage rate from the current eighteen percent to 63 percent by 2016. The roadway will link Deodoro (one of the four areas of the city which will host events during the 2016 Games) to the Santos Dumont Domestic Airport.
The other three lines are: the Transcarioca, which is already under construction, linking Barra, (which will host more than fifty percent of the sporting competitions), to the Tom Jobim International Airport; the Transoeste (also under construction, connecting Barra to the Santa Cruz and Campo Grande areas); and the Transolimpica (which will link Barra to Deodoro and is currently being tendered).
The Central LRT is designed to integrate metro stations, train stations, ferries, BRTs, conventional bus networks and the Santos Dumont Airport, thereby improving traffic conditions in the city's Central zone, with the goal of reducing bus circulation in the region.
The project is also an essential part of the renovation of the city's Port Zone, which will host several non-sporting venues during the Rio 2016 Games, including the Main Operations, Technology, Logistics and Security Centers, Accommodation Villages, the Uniform Distribution and Accreditation Center, and the Non-Accredited Media Center.
Mayor Eduardo Paes emphasized the legacy of the new transport systems in improving city life, "[They] will transform the city's day-to-day. They will change traffic and transportation in several regions of Rio, especially the suburban area, which has lately been overlooked and dilapidated."
The Rio 2016 President, Carlos Arthur Nuzman, said, "The guaranteed investments from the Federal and City Governments show the commitment and integration of all government levels with Rio 2016. They also ensure safe and efficient transportation during the Rio de Janeiro Olympic and Paralympic Games. And above all, it demonstrates that the event will bring deep and positive transformations to the city."