By Lisa Flueckiger, Senior Contributing Reporter
RIO DE JANEIRO, BRAZIL – Unemployment in Brazil has hit its highest level for the month of July since 2009 reaching 7.5 percent, according to the IBGE (Brazilian Statistics Bureau). And against trends from previous years, analysts expect the number to grow in the second half of the year, ending 2015 with between 8 and 8.5 percent of unemployed.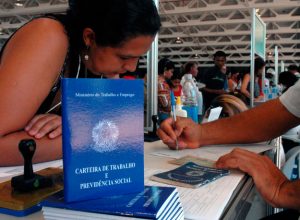 The number of unemployed in July 2015 increased by 56 percent when compared to July in 2014, the highest yearly increase since 2002. This means there were 622,000 people added that are looking for a job, but can't find one, totaling in 1.8 million overall.
In June 2015 the rate of unemployed had been at 6.9 percent and experts only expected it to increase to 7 percent. The rate had been steadily rising since December 2014, when it had stood at 4.3 percent.
"There is a growing demand for jobs, being influenced by both those who are quitting, losing their job, but also influenced by people that were in that inactive population, called PNEA (economically inactive population), leaving unemployment and now starting to push into the labor market. We observed an increase in people looking for work and on the other hand, a market that is not generating the jobs to absorb [the demand]," Adriana Beringuy from the IBGE explained in O Globo.
The sectors most affected by unemployment in July were construction and industry, while in education and public administration employment increased. The IBGE statistics are based on six metropolitan regions: Rio, São Paulo, Recife, Salvador, Belo Horizonte and Porto Alegre. Salvador registers the highest unemployment rate with 12.3 percent.
In other years, unemployment figures when rising in the first half of the year, rebounded a little bit during the second half. However, this year, experts expect them to rise even further, reaching between 8 and 8.5 percent. Until the end of 2016, the numbers are estimated to grow to twelve percent.
"The curve [of the graph] is completely out of the pattern. The behavior this year is already different from the others and probably will continue differently. From what we are seeing now, it is possible that unemployment increases in the coming months," João Saboia, professor of the Institute of Economics at UFRJ, explained to O Globo.
President Dilma Rousseff stated to deeply care about the situation, saying "There are two things that concern me every single day: one is the rise in unemployment, because I know that this causes suffering for families in this country. Everything I do, is to prevent this from happening, from increasing, from having this moment of difficulties, from [suffering the] consequences. The second issue that I care about every single day is inflation. The rise in prices erodes the people's pockets. The answer is yes. Yes, it worries me."