By Patrick Eccles-Williams, Contributing Reporter
RIO DE JANEIRO, BRAZIL – The government of Brazil has attempted to put a stop to the lucrative process of buying and re-selling tickets for this year's World Cup by blocking the online ticket exchange, Viagogo. The company describes itself as "the world's largest ticket marketplace," yet customers living in Brazil are unable to buy World Cup tickets through this site.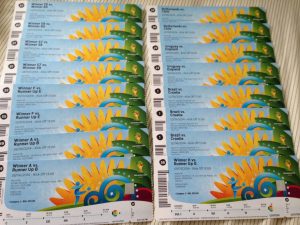 With under a month to go until the World Cup kicks off, an active re-sell market has sprung up with tickets selling thick and fast and often at largely inflated prices. Viagogo offers customers a platform from which to sell their tickets and then charges the seller ten percent of the price at which the ticket is sold.
However, on attempting to purchase tickets for the up and coming World Cup, customers living in Brazil are greeted with the message, "We are sorry, the page you are trying to access is not available to customers in your country."
When asked to provide The Rio Times with a statement regarding their thoughts on the matter, Viagogo failed to respond.
What is certain is that the blocking of Viagogo is, in reality, no more than a symbolic gesture as there are a large number of other sites offering an identical service. These sites vary from officially registered companies to Facebook Groups, in which buyers and sellers post which tickets they have or which they are looking for.
These sites are highly controversial and divide opinions. While supporters argue that people have the right to do what they like with their tickets and that nobody is obliged to buy the tickets at these inflated prices, critics say that ticket touting is unfair and it prevents ordinary fans from getting tickets at a reasonable price.
Vivian Sumo, a Colombian student in Rio, is opposed to the re-selling of tickets at huge profits. She says, "I am shocked at the prices of the tickets … but the worst is not the price but that there is always someone willing to pay that much."
The asking price for World Cup tickets depends very much on who is playing and where the game is being played. The owner of a Facebook page that re-sells tickets and who asked to remain anonymous explains, "The average for a Group game is about R$500 and after that it increases. The final is R$30,000 minimum."
When asked for his personal opinion on the re-selling of tickets he said, "It's a unique opportunity for many people who are surprised and suddenly realize their tickets are worth gold."
Official FIFA legislation prohibits the re-sale of tickets and only permit the named ticket holder to enter into the stadium. However this has not discouraged people.
Carlos Frederico Silva, creator of the Facebook group Ingressos da Copa sem Cambista (World Cup tickets without touts), believes FIFA don't care about the black market for tickets: "If FIFA was serious and rigorous about access to the stadiums, touts wouldn't buy dozens of tickets, like has happened, because they wouldn't be able to sell them…But FIFA is not interested in this because what interests them is money in their bank account."
Silva explains that he created the group to stop people being exploited, while at the same time providing a platform for people to purchase tickets to go and see a World Cup game, which, he describes, "for many people is a lifelong dream."
Anyone who gives an asking price above twice the face value of the ticket will be expelled from the group. He claims to have received threats from some touts but continues undeterred.