By Chesney Hearst, Contributing Reporter
RIO DE JANEIRO, BRAZIL – The lineup for Rock in Rio 2013 begins to take shape as organizers confirm that Beyoncé, Muse, John Mayer, Nickelback, Alice in Chains, Sepultura, and Avenged Sevenfold will join Bruce Springsteen, Metallica, Iron Maiden and Ben Harper during the upcoming seven day festival which will be held this September at Barra da Tijuca's Cidade do Rock (Olympic Park City of Rock).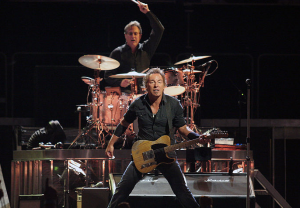 Recently, American pop superstar Beyoncé was confirmed as the headliner for the opening night of the festival, September 13th. The announcement of her "Mrs. Carter Show World Tour" and the scheduled stop at in Rio, came just hours after Beyoncé's highly praised Super Bowl XLVII halftime show on February 3rd.
Beyoncé Knowles-Carter, wife of Mr. Shawn 'Jay-Z' Carter, initially achieved success as a member of the all girl R&B group, Destiny's Child, who she briefly reunited with during the aforementioned halftime show.
In 2003, while still with Destiny's Child she released her first solo album, "Dangerously in Love". Since then, during her solo career, she has released multiple megahits, including; "Crazy in Love", "Single Ladies (Put A Ring On It)", "Halo" and "Run The World (Girls)"
Organizers also confirm that the alternative rock band Muse will headline the following night of the festival, Saturday, September 14th. Known for their pop-operatic rock and progressive song structures, the English natives are currently on tour in support of their sixth studio album, "The 2nd Law". The first single released from the album, "Survival", was the official song of the 2012 London Olympic Games.
"I'd buy my tickets as soon as possible," Botafogo resident and Muse fan Bruna Peixoto told The Rio Times. "I've been waiting for ages for an opportunity to see Muse live."
Additionally, American singer-songwriter John Mayer will bring a more laid-back sound to the festival. The 35-year-old guitarist is confirmed to play on the Rock in Rio main stage on the same day as headliner Bruce Springsteen.
Famous for his hits as "Your body is a wonderland", "Say", "Waiting on the World to Change" and "Why Georgia" among others, Mayer had canceled several tour dates last year due to the loss of his voice from a throat condition. He only returned to performing live earlier this year in support of his fifth full-length album, "Born and Raised".
On a different note, Thursday, September 19th will be Rock in Rio's first of two metal days. American grunge pioneers, Alice in Chains with current vocalist, William DuVall will join the lineup alongside the night's headliner and festival favorite, Metallica. The Swedish heavy metal band, Ghost and the Brazilian heavy metal legends Sepultura with Les Tambours du Bronx will fill out the bill for the Main stage that night.
Canadian rockers, Nickelback, known for their hits "How You Remind Me" and "If Today Was Your Last Day" have been also added to the main stage lineup for Friday, September 20th, Rock Day. The band who has sold over fifty million albums worldwide will be joining Ben Harper on the day's lineup.
American heavy metal band, Avenged Sevenfold, has been confirmed for the second metal and final day of the festival, Sunday, September 22nd. They will play the main stage after Slayer and before festival veterans and headliners, Iron Maiden.
Tickets per day for Rock in Rio are R$260 (full price) and R$130 (half price) and will officially go on sale in April. For more information about tickets and lineup dates, see the official Rock In Rio website here.