By Lise Alves, Senior Contributing Reporter
SÃO PAULO, BRAZIL – Breaking the festival's record, more than 100,000 people gathered at the Interlagos Race Track in São Paulo on Saturday for the Lollapalooza Festival. In all, organizers say more than 190,000 attended the two-day festival that showcased more than forty national and international musical attractions.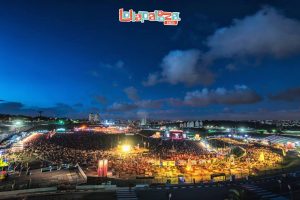 Young and old came to see international bands, like Cage The Elephant, Two Door Cinema, The Strokes and U.S. singer The Weeknd.
Those not old enough to remember bands like Duran Duran, sang right along with their parents on Sunday, songs like "Hungry Like the Wolf" and "A View to a Kill".
After almost forty years playing together, Simon Le Bon and band members showed they still have what it takes to attract crowds. In one song, the group asked Brazilian newcomer Ceu to join them. "We literally had a ball! Thank you for having us, what a crowd!!," said the Duran, Duran band on its Twitter feed.
Since its first time in Brazil in 2012, Lollapalooza has been attracting a younger and younger crowd of music lovers, and investing in both electronic and pop bands as well as famous DJs to command the masses who flock to the festival.
This year the festival was more eclectic mixing tribes such as fans of Martin Garrix and The Chainsmokers to groups who went crazy for pop sensation Tove Lo and electronic wonderboy The Weeknd, to the 'older generation' who enjoyed The Strokes and Duran Duran.
"Thank u again São Paulo Brazil for an amazing Night! We will see you soon!" promised the lead singer of The Chainsmoker.
Of the three stages set up for the festival, one was reserved especially for electronic music, and attracted the youngest music fans of the festival.
In all, the 2017 Lollapalooza was a success, giving São Paulo something to brag about until the second semester, when Rock in Rio is expected to shake up Rio de Janeiro and Brazil.