By Patricia Maresch, Senior Contributing Reporter
RIO DE JANEIRO, BRAZIL – The organizers of Rock in Rio 2011 recently announced the line-up for the festival's extra day, Thursday, September 29th. The additional day features the legendary Stevie Wonder, and the British acts Jamiroquai and Joss Stone – who will perform solo. Also the American urban artist Janelle Monáe, whose 2010 Grammy nomination song "Tightrope" will be on the ticket.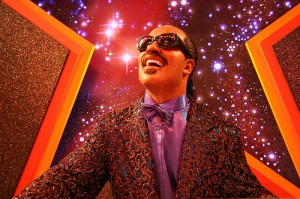 The tickets for the first two weekends went on sale on May 7th and all 600,000 were sold out within four days, leaving scores of fans disappointed.
The decision to have an extra day was announced mid-June in response to a request from Rio's mayor Eduardo Paes and the high volume of fans who were asking for tickets on Twitter and Facebook. It's the first time in the 26 years of Rock in Rio's existence that the organization decided to add a day to the festival.
Perhaps the biggest name on the new day is Stevie Wonder, a music icon who has sold over a 100 million records and won 25 Grammy Awards. He scored hits with "Isn't She Lovely" and "Superstition." Wonder has worked with artists like Michael Jackson, Paul McCartney and Prince and is said to be a major influence on artists who are performing at Rock in Rio as well, such as the Red Hot Chili Peppers and Alicia Keys.
"The line up for the extra day is fantastic, perhaps even the best of all," says Dutch cultural exchange consultant Marlies van Exter, who has lived in Rio for eight years. "Finally, with festivals like this we see some great acts performing in Rio."
There are now some 200 confirmed performances of international and Brazilian artists. They will perform on four stages: World Stage, Sunset Stage, Electronic Stage and Rock Street.
Besides a run on tickets, there is also a high demand in hotels and hostels. Riotur (Rio's Secretary of Tourism) expects that 315,000 tourists will attend the festival, which – according to the Brazilian Association of Hotels – will probably lead to a record hotel occupancy rate of 98 percent. Many Cariocas are considering offering lodging to outside visitors through sites such as Couchsurfing.
A Riotur study predicts that ten percent of the visitors will be foreign, 35 percent Brazilian tourists and 55 percent from Rio. Spending by tourists is estimated at R$365 million (US$233 million).
Following early indications of the events success, Roberta Medina, vice president of the festival, has already announced that there will be another edition of the festival in Barra da Tijuca in 2013.
The first Rock in Rio was held in January 1985, and by drawing 1.4 million people it is believed to be the largest rock festival in the world. The next editions were in 1991 and 2001, before the festival went overseas, with Rock in Rio concerts held in Lisbon and Madrid.
This year Rock in Rio takes place on September 23rd, 24th, 25th, 29th, and 30th, and on the 1st and 2nd of October at the Parque Olímpico Cidade do Rock in Barra da Tijuca. Among the headline acts: Guns N Roses, Red Hot Chili Peppers, Coldplay, Metallica, Elton John, Jay-Z, Lenny Kravitz, Shakira, Rihanna, Ivete Sangalo and Snow Patrol.
Official ticket sales for the extra day starts one minute after midnight on July 23rd, online only at www.rockinrio.com.br at R$190 (US$120). There is a limit of four tickets per person (per CPF) and only one of those can be half-priced.