By Nathan M. Walters, Senior Contributing Reporter
RIO DE JANEIRO, BRAZIL – B.B. King, the iconic blues legend, returns to Rio for a highly-anticipated performance at Vivo Rio this Saturday, September 29th.  Wielding his custom-made Gibson guitar, Lucille, the tireless performer on a seemingly non-stop tour around the world, brings his bluesy storytelling back to Rio for a memorable night with the king.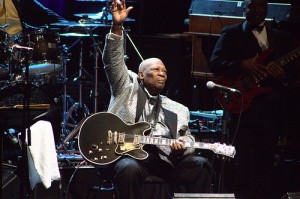 Born and raised as a farmworker in Mississippi, gaining early prominence as a DJ in Memphis, Tennessee, King's career trajectory has taken the guitarist from the burning jukejoints of rural Arkansas to presidential performances.
King, who recently celebrated his 87th birthday, is the unofficial blues ambassador of the United States; the genre's answer to Louis Armstrong's importance in spreading the gospel of jazz. Like Satchmo, King spread the news of the blues to a global audience.
The importance of guitarists like King – alongside Howlin' Wolf and Muddy Waters – on the development of Western popular music cannot be overstated.  King's playing had a direct and lasting influence on modern British guitar legends such as Eric Clapton (who regularly plays with King) and Jimmy Page, not to mention the iconoclastic American guitarist Jimi Hendrix.
Saturday night's performance is another in a long list of shows King has done in Brazil, one more in an awe-inspiring global touring schedule. Another in Vivo Rio's impressive lineup of international blues acts, including, most recently, guitar legend Buddy Guy.
"I've had the chance to open two of B.B. King's shows in Brazil, one in 1999 in São Paulo and the other in 2003 in Rio. Meeting him is like meeting a powerful Indian chief," says Brazilian harmonica player Flávio Guimarães.
"He's so full of energy and charisma.  His vocals and guitar style are soulful and unique and he made the blues popular around people that would never really have any contact with this kind of music."
King, a Rock and Roll Hall of Fame inductee, has enjoyed mainstream success with a collection of hits that span the spectrum of the blues.  With almost fifty solo albums recorded over five decades, King has dabbled in a few different styles, but has always remained true to the spirit of the genre.
He is probably most well-known for his Grammy award-winning song "The Thrill is Gone". The song remains an entry point to the blues, the gateway track for those interested in knowing more about the genre.
Blues historian Monte Railey is unabashed in his appreciation of King.  "One of the masters! Always playing with a tight professional band," says Railey. "Great performances.  King stretches out sets with great stories between songs, and still strong in voice and guitar. Although raised in the Delta, B.B. came to represent the epitome of urban uptown blues."
On Saturday, King will no doubt move through his impressive repertoire for a performances that will probably leave few saying "the thrill is gone."  In fact, this weekend's thrill will arrive at Vivo Rio, and Cariocas and expatriates alike should not miss King's performance.
What: B.B. King
Where: Vivo Rio – Av. Infante Dom Henrique, 85 – Parque Flamengo – Flamengo
When: September 29th, 10PM
Price: Starting at R$250 to R$550