By Nicole Froio, Contributing Reporter
RIO DE JANEIRO, BRAZIL – The Back2 Black festival opened its doors for its fourth edition Friday (November 23rd) at Estação Leopoldina, celebrating African culture in Brazil. The first attraction was Martinho da Vila and his daughter Mart'nalia, singing songs from his most recent album "Martinho da Vila 4.5 Atual".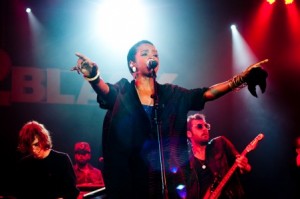 Martinho was celebrating 45 years of career and brought Riachão, Tito Paris, Manecas Costa and Virginia Rodrigues to the stage to perform with him, bringing the Back2Black festival to a memorable start.
Virginia Rodrigues sang Canto de Iemanjá (Iemanjá Song), softening the hearts of the audience and Martinho made a point of mentioning Black History Day and its importance.
Martinho said: "This festival is very important because it is a reunion of sister cultures and I feel very comfortable being here, since my friends and I are part of a group that already thought about this interchange of cultures that was lacking in Brazil, this event is like no other."
Today, Martinho will be a part of a seminar called "The origin of samba, the presence of samba in Brazilian literature and the poets of samba" with Nei Lopes and Paulo Lins.
Yet the opening night of the festival wasn't over, as Nigerian Nneka got onstage and sang the hits of her latest album "Soul is Heavy", released earlier this year. Her songs are about her country of origin, where she lives at the moment and her time spent in Europe.
She alternates from English to the igbo dialect, taking inspiration from reggae and afrobeat. Her main influences are Fela Kuti, Bob Marley, Mos Def, Talib Kweli and Lauryn Hill – who was there herself to close the night.
"The Miseducation of Lauryn Hill", her first album, sold around nineteen million copies around the world – and she did not disappoint the festival's audience. With astounding style and voice, she dazzled the Brazilian audience and even brought American rapper Naz onstage who also jammed with Gabriel O Pensador.
Today's show, starting at 9PM, will include Flavio Renegado, Naná Vasconcelos, Rio Maracatu, Lura, Jorde du Peixe, Missy Elliot, Hugh Masekela and many more.
Read more (in Portuguese).
* The Rio Times Daily Updates feature is offered to help keep you up-to-date with important news as it happens.