By Tony Maiella, Contributing Reporter
RIO DE JANEIRO, BRAZIL – Facing Copacabana Beach, it is difficult to get tired of the views at the Balcony bar and restaurant, and those who have been there late-night already know what a hotspot it is for the guys. Recently though, Balcony has also been focusing its sizable lunch menu and offering a happy hour from 5PM to 5:45PM, and perhaps most impressive – is the new forty percent discount off the dinner menu in June.
"Since we started giving away free food at the happy hour, people are arriving much earlier in the evening to start unwinding," says David Eger, an American expatriate from Upstate New York and the owner of Balcony.
At the happy hour, one can expect a plentiful sampling of self-service petiscos (appetizers) like chicken wings, omelets, mini-pizzas, and spaghetti. It's relaxing to sit by the beach while enjoying live music, a sports broadcast on one of the seven HD flat screens and your favorite drink.
You can easily pick your poison since Balcony has an enormous selection of high quality spirits with over fifty bottles of the best liquors. And if the Rio "winter" is still making you feel chilly, the restaurant has heating lamps to solve that problem too.
In addition to the happy hour, the restaurant has upped the ante with its selection of surf and turf at already reasonable prices alongside the forty percent dinner discount. The "Filet Mignon on A Tableside Grill" for two is a satisfying 400 gram fine cut steak with calabresa, onion, and cheese for only R$49.95.
Those with a craving for fish can order the "Fresh Fish of the Day", which is served with the house shrimp sauce, for only R$34.95. Never one to skimp, these entrees come with a choice of sides like garlic mashed potatoes, rice, black beans, French fries, or a variety of spaghettis.
Outside of their new menu items, Balcony also has some of the tastiest most reasonably priced burgers, pizzas, and Mexican food in Copacabana. You can chow down on the "Balcony Burger" for R$15.95 or the "Burrito" for only R$8.95.
There is also a good selection of pizzas with a medium pepperoni for R$29.95. And if you are looking to stay fit for a trip to the beach you can order the Chicken Ceasar Salad (R$16.95).
Mike Smith, an American expatriate living in Ipanema comments: "I'd been to the Balcony at night and never thought about it as a restaurant, but I had a lunch meeting with a friend there and was really happy with the Chicken Ceasar Salad, and even went back recently and had the special-of-the-day seafood pasta dish – which was excellent."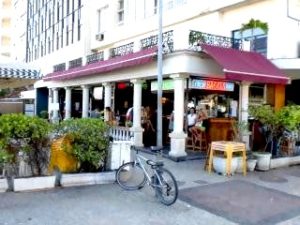 From the start of his ownership in February of 2008, it was clear that Eger knew how to run a successful business that put its patrons first. Amusingly, the title on his business card reads, "Vice-President In Charge of Nothing & Going Nowhere."
According to Eger, "When I first took over the restaurant, I used to give out free peanuts to our patrons and my old Brazilian partner told me that I would go bankrupt. Now I tell everybody that I built my house on peanuts."
Balcony Bar
Avenida Atlântica, 1424 – Copacabana
Rio de Janeiro – RJ, 22021-000
55 (21) 2541-8381
* This is a paid Advertorial for Balcony Bar.