By Tee Cardaci, Contributing Reporter
RIO DE JANEIRO – Often dismissed by Zona Sul residents as a soulless stretch of malls, traffic and condomínios fechados (gated condominiums), in reality Barra da Tijuca harbors a vibrant nightlife scene just waiting to be explored.
With my guide for the evening, artist, designer and Barra resident, Tam Arroba, I set off to see what was on offer.
11:30 PM: Any night out in Rio begins at a ponto (meeting point), and when going out in Barra, you would be hard-pressed to find a more classic ponto than Bar do Osvaldo, which first opened its doors in 1946.
"My father came when he was my age and I don't think much has changed since then," said Tam. The peeling paint of the interior salon seemed to concur.
With the jukebox playing everything from baile funk to Elvis Presley, we settled into a table on the veranda and were promptly served by a living representant of Barra history.
Our waiter, António Robrigues, had been serving up the bar's signature batidas (an icy cachaça-based drink made with cream and other flavorings) for over thirty-nine years.
"Back when this was the only place around, we would play the music really loud and everyone would go crazy. Now with the condos, the police come sometimes and tell us to calm down," António reported with a chuckle.
After a few more coins in the jukebox, we set out in search of more action.
1:45 AM: "I don't actually come here often but it's hard to talk about Barra nightlife and not mention this place," Tam told me as we arrived at Nuth.
As we stepped into the open-air entrance area, we were pleasantly surprised to see a heaving dance floor. Although Nuth is one of the older clubs in Barra, they still pack them in.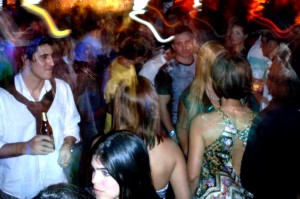 The extensive drinks menu provided us with plenty of options to ease us onto the dance floor. In no time we were getting down with the Barra elite, or at least those financially secure enough to be rocking out on a Wednesday.
"Is every woman blonde or has my vision gone?" I asked my partner in crime. "Welcome to Barra," Tam laughed as we bounced to the house beat.
3:30 AM: Craving something absorbent in our stomachs, Tam dragged me out into the cool Barra night. "I know just the place," she beckoned conspiratorially.
Even at that hour, the Paderia Padoca (Padoca Bakery) was pulsating with a vibrant cross-section of humanity. Groups of old friends and new acquaintances were gathered around plastic tables, sharing laughs and ice-cold beers.
My fearless guide ordered us up some late-night munchies that she translated as 'knees'. I was relieved to find out, when our joelhos arrived, that they contained only ham and cheese.
5AM: Although Tam originally had more in store, the cumulative effect of our night out had begun to weigh upon us. Besides, Barra had already made its point. Although the vibe may be different to the über-chic enclaves of Zona Sul, Barra da Tijuca has no trouble standing on its own as yet another great place in Rio to carouse the night away.