By Chesney Hearst, Senior Contributing Reporter
RIO DE JANEIRO, BRAZIL – The city of Petrópolis will once again celebrate all things German as the traditional Bauernfest returns for its 27th edition beginning June 24th and continuing through July 3rd. Bauernfest will host contests, screenings of German films, vendors offering traditional German foods, and beer including craft beers and Bohemia, the well-known beer brand, originally created by German settler Henrique Kremer in 1853 in Petrópolis.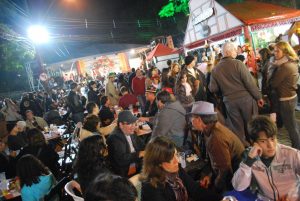 Promising fun for the entire family, the Bauernfest events and activities also include two main parades on June 26th and July 3rd, the first and last Sundays of the festival, and shows with traditional German folk dances, music, concerts, theater, and circus performances taking place throughout the festival.
"We are preparing to make Bauernfest, one of the largest brewers events in Brazil," Raphael Rizzo, Brewery complex manager of Bohemia, a sponsor of the event, told G1. "We will have several new features that will promote a unique beer experience to visitors and Petrópolis."
Following the Oktoberfest celebrations hosted in yearly in Blumenau, Bauernfest is the second largest celebration of German heritage in Brazil. During the 2015 edition, the festival exceeded expectations and attracted more than 250,000 visitors to Petrópolis.
Located approximately 68km outside of the city Rio of Janeiro in the Serra dos Orgãos mountains, Petrópolis is well known for its milder climate and is a great place to visit for a more European wintery experience in Brazil. The majority of the festival will take place in and around the city's Palacio de Cristal (Crystal Palace), a glass structure inspired by the glass palaces in London and Porto, built in 1884 for the Crown Princess Isabel.
In addition to the Bauernfest, Petrópolis, also known as the Imperial City of Brazil, is home to the former Summer Palace of the second Brazilian emperor, Emperor Pedro II, the nation's second monarch, son of Pedro I, and the city's namesake.
Additional attractions include the antique Bohemia beer brewery, the oldest brewery in Brazil; and the Museu Casa de Santos Dumont (Santos Dumont Museum), the former residence of Brazilian aviator Santos Dumont which is now home to a museum dedicated to pioneer's life and the nearby mountains.
Special bus travel packages to Petrópolis from Rio and the neighboring cities of Niterói and São Gonçalo are available during Bauernfest.
What: Bauernfest 2016
When: Friday, June 24th through Sunday, July 3rd
Where: Palacio de Cristal – Petropolis, RJ
Entrance: One-day package – R$110, two-day package- R$220