By Chesney Hearst, Senior Contributing Reporter
RIO DE JANEIRO, BRAZIL – After touring extensively for years, the dream-pop duo known as Beach House will finally debut in Brazil this week. Known for their blending of ethereal sounds with singer Victoria Legrand's unique vocal textures, Beach House will play at Lapa's Circo Voador on Friday, August 30th.
The band will play first at São Paulo's Cine Jola on Wednesday, August 28th and then, thanks to the help of Rio crowdfunded kickstarter Queremos, come to Rio.
The Baltimore (U.S.) based duo formed in 2004 with French-born Legrand as singer and keyboardist, and Alex Scally as the guitarist. The two received critical acclaim with the release of their self-titled debut album in 2006 and their sophomore release entitled, Devotion followed in 2008.
"I was introduced to the music of the band through a friend," Rio resident and new fan of Beach House, Candy Saavedra told The Rio Times. "I found them on YouTube, let it play and enjoyed the sound! It was their style that I liked, the female voice and the beat."
Legrand's vocal stylings, which are at times compared to those of singer Nico, also previously caught the attention of Brooklyn, NY-based band Grizzly Bear. In 2009 the band included her backing vocals on their single "Two Weeks" and Legrand later provided vocals for the band's contribution to the Twilight: New Moon soundtrack, "Slow Life".
Beach House finished their third full-length album entitled, Teen Dream in 2010. Produced and engineered by Chris Coady, known for his work with the Yeah Yeah Yeahs and Grizzly Bear, the album became the duo's first major label release. Distributed in the U.S. through the Sub Pop record label it broadened their fanbase and helped them to achieve a new level of popular success.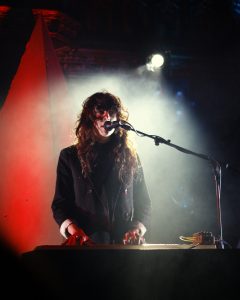 They then began a long period of touring which would grow to include almost 200 shows. When asked by the Village Voice (of NYC) during a 2012 interview what kind of venues the band liked to play, Legrand said, "I do think we prefer the club shows. Mostly because of the control that we have over the show and the production and the experience. […] I think that in a way, we are tour veterans."
The desire to control is something that both Legrand and Scally often express when speaking about their live performances, their work, its use and distribution. After the success of Teen Dream landed them a spot as the opening band for Vampire Weekend during their North American tour, Legrand and Scally rejected the idea of their own U.S. tour in larger venues.
"We felt too popular. We liked ['Teen Dream'] and it was a good album, and we worked really hard on it, but we didn't want it to be what we were known for," Scally said. "If anything, we wanted to slow it all down."
The duo did just that and went to work on what would become their fourth full-length album, Bloom. Collaborating again with producer Chris Coady, the three traveled to Tornillo, Texas near the city of El Paso and the United States-Mexico border. After the album release Scally and Legrand reportedly rejected the idea of coffee chain Starbucks distributing Bloom in their stores.
However, the duo did partner with Pitchfork magazine to record a 26 minute short film, entitled "Forever Still," in which they perform four songs from Bloom; "Wild", "The Hours", "Wishes", and "Irene". The film is shot in the desert around El Paso and Tornillo, Texas where the album was recorded. It gives fans and newcomers a glimpse of a live Beach House experience even if it is in the desert.
"I'm a recent fan and I think the show is gonna be awesome!" Saavedra said. "Circo Voador's atmosphere is even better! It's a place to share! A very good vibe!"
Who: Beach House
Where: Circo Voador – Rua dos Arcos, S/N, Lapa
When: Friday, August 30th, 11PM Doors open 10PM
Tickets: R$80 – R$160, available here and at the Circo Voador box office.