By Blake Sherman and Jay Forte, Contributing Reporter
RIO DE JANEIRO, BRAZIL – January 2013 means a new year, and the middle of the sizzling summer in Rio with the nightlife energized by long hot days and steamy nights. While Rio may be better known for its beaches and samba, late-night crowds are drawn to the city's clubs who are continually reinventing themselves and evolving with Rio as it grows more and more into an international destination.
In recent years, Rio's club scene has been dominated by underground staples like Casa da Matriz in Botafogo and Fosfobox in Copacabana. Other ultra-chic locations like Boox, Baronneti and Londra in Ipanema have given way to Club Praia and Club Miroir on the Lagoa.
Having a strong opening in the beginning of last year, Miroir continues to be the destination club for playboys (term for young wealthy Cariocas) and celebrities alike. Brazilian model and club promoter, Gisele Canavezzi, knows the scene well in Rio and recognizes Miroir as one of the best.
"For all the attributes: better technology, better sound, better lighting. With a hundred percent certainty Miroir continues to top the list of [dance clubs] in Rio. Miroir offers the best to the Carioca [clubbing] public," says Canavezzi.
Perhaps one of the newest turn of events is in Lapa, a center for Rio samba, live music venues and massive weekend street parties. As the area gets cleaned up though, clubs like Teatro Odisséia have drawn all-night young and beautiful crowds.
An expatriate DJ from San Fransisco, and also The Rio Times Nightlife Guide Editor, Mike Frugalleti, attests to one of Lapa's newest clubs, Leviano. Frugalleti states, "Leviano really gained popularity this year by offering the first big club night in Lapa. Since then, promoters and DJs are flocking to Leviano to throw new parties."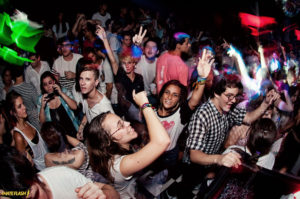 Reinvention has played a key factor in the longevity of clubs and many well-known locales have made tweaks to keep them on the top of the list. With its outdoor patio and inside dance floor, Club 00 (Zero Zero) holds a solid standing on the top of Rio's hot spots.
"00 reinvented itself this past year by throwing a handful of outdoor parties as well as their Thursday night weekly," observes Frugalleti.
Another music venue and nightclub in Ipanema/Arpoador is Studio RJ, which was opened in late 2011. With a view of the beach and a eclectic set of music programming it is definitely worth checking out, including the Tuesday night's "Ya'Ya" all vinyl party.
British expatriate and DJ Doug Gray told The Rio Times: "They have a great set up. Ya'Ya is one of the few nights that they have managed to keep going on a weekly basis and I think that's down to the guys that run it doing the graft and getting in lots of different guest DJs and doing it for the love of vinyl, which people are still into, despite digital taking over in most clubs."
The Rio club enthusiast has a number of other options to explore throughout Rio as well. Some noteworthy destinations include: Melt in Leblon, Café del Mar in Copacabana, Zozo in Urca, and Nuth in Barra da Tijuca. For the GLB crowd there is Galeria Café in Ipanema, as well as the massive The Week in Centro, considered by some in the community as "the only real club" in Rio.
For more information about what is happening each and every night of the week, The Rio Times offers its Nightlife Guide for events throughout the city.