By Bruno De Nicola, Senior Reporter
RIO DE JANEIRO – "It's a secret", and if you want to learn what the secret it, go to Santo Cristo neighborhood to shake with samba school Unidos da Tijuca, the blue and yellow 'gremio' with a very special Rainha da Bateria (Drum Session Queen), Adriane Galisteu.
This year the samba school from the downtown area will be parading in the Sambodrome on February 14th, to a mysterious theme. Unidos da Tijuca will tell to its audience, through costumes and floats, the story of several 'secretos' of mankind.
Adriane Galisteu is a very popular Brazilian TV star, who's career was actually launched by a relationship with late formula 1 pilot, Airton Senna. She will be leading, for the third time this year, the 'bateria' (drum session) of Unidos da Tijuca, assuring to give to every drummer the right inspiration on the Sapocaí avenue.
Rainhas da Bateria are usually beautiful women in very flashy and heavy costumes – around 30 lbs –  that open the way to the samba schools drum session during the Sambodrome parade. These dream-ladies job is to keep the drummers morals and energy high, they are a sort of super-sexy cheerleaders.
Many women from the samba school metier and the showbiz dream of being Rainha da Bateria, probably the most prominent position of all during the Carnival parade. Being a drum-session queen usually leads to many other interesting jobs: a photo shoot for Playboy magazine in most of cases, but also a chance to work in a TV show.
Ladies compete hard for such a position to boost their showbiz careers. It's been reported that sometimes their agents offer bribes, with sums of around R$20-30,000, to samba school directors to get their clients to be the Rainha da Bateria.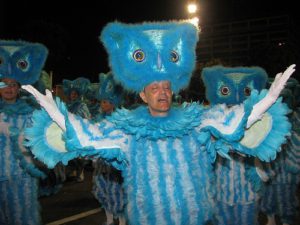 Along with the queen, drum sessions are inspired by other woman too. An interesting hierarchy sets the order of appearance for Princesas, Madrinhas and Musas (Princesses, Godmothers and Muses).
Unidos da Tijuca was founded in 1931, being one of the first major league samba schools of Rio along with Mangueira and Portela. Even over its many years of experience, the blue and yellow gremio earned the title of Carnival Champion only once in 1936, quite a long time ago.
For 20 years, from 1960 till 1980, the gremio went through a very obscure period, lost in the darkness of the Carioca samba championship's minor league. Now corporate marketing strategies have been applied by school directors to improve Unidos da Tijuca's image. The school's hospitality approach is focused on customer relationship management, go to a rehearsal on any Saturday night and you will see.
The Unidos da Tijuca web site is very clear and easy to use, the merchandising and marketing sections are very interesting and full of interesting options, like the official tour at the school headquarters to witness carnival preparation activities. At the virtual store you'll be able to buy a pass and a costume for the 2010 carnival contest.