By Chesney Hearst, Senior Contributing Reporter
RIO DE JANEIRO, BRAZIL – For its premier edition, the 2013 Brasil Summer Break Festival will take place first in São Paulo on December 7th, and then at Rio's Citibank Hall in Barra da Tijuca on Sunday the 8th. The festival's rock and reggae focused lineup includes the bands: O Rappa, SOJA, Inucubus, and headliners Dave Matthews Band.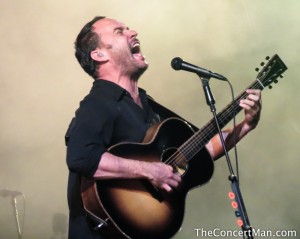 Often praised for their live performances that include extended improvisations of their songs and sets with videos and dazzling light displays, The Dave Matthews Band is also well known for never playing their songs exactly the same way, making each show a new experience.
Formed in Charlottesville, Virginia in 1991 and fronted by singer/songwriter and guitarist Dave Matthews, the band has released eight studio albums and many live albums. Their jam band genre of music mixes rock, folk and jazz elements and their well known songs include "Crash," "Satellite," "Where are you Going," "Everyday," and "Ants Marching."
The group is also known for allowing live recordings of their shows and the not-for-profit trading of those recordings. They credit their initial success to college students in Virginia and the surrounding area trading early live recordings.
Californian rockers Incubus will play before the Dave Matthews Band on Sunday. Formed in 1991 by high school friends Brandon Boyd (vocals), Mike Einziger (guitar) and José Pasillas (drums), the group went on to release seven studio albums and receive multi-platinum sales.
They are know for mixing elements of alternative rock with alternative metal and hip-hop among other genres, making their sound difficult for many to classify. Their well-known songs include; "Pardon Me," "Nice to Know You," and "Wish You Were Here."
Before Incubus, American reggae group SOJA will play. Formerly known as Soldiers of Jah Army, the band hails from Northern Virginia near the American capital of Washington, D.C. SOJA frontman Jacob Hemphill explained how Bob Marley inspired the group's reggae style, saying, "We wanted to play this music because of the idea that it was bigger than music."
He added, "I hear conviction when Bob Marley sings. His music is an international symbol of freedom, and you can hear it in his voice that it was always his intention to change the world."
SOJA will play the Brasil Summer Break as part of their ongoing South American Tour, which includes future shows with Dave Matthews Band in Porte Alegre, Brazil on December 11th and with both Dave Matthews Band and Incubus in Buenos Aires, Argentina and Santiago, Chile on December 14th and 17th, respectively.
Brazilian group O Rappa will kick off the event Sunday night in Rio. Known for their reggae fusion and blending of rock and hip-hop, the group has been nominated multiple times for Latin Grammy awards.
The group has released six studio albums with the most recent entitled, Nunca Tem Fim (Never Ends). Their third album, Lado B Lado A (Side B Side A) was voted 93rd best Brazilian music album by Rolling Stone Brazil and its title track was used in the film Tropa de Elite in 2007.
The Brasil Summer Break Festival was originally scheduled to take place in Praça da Apoteose but was moved to Citibank Hall due to "technical problems," according to the event's production team. "Everyone who purchased tickets and can not go to Citibank Hall may request a refund," says the production team of the festival.
Refunds can be requested at points of sale and requests for refunds online can be sent to sac@ticketsforfun.com.br.
What: Brasil Summer Break Festival 2013
When: Sunday, December 8th, 2013
Where: Citibank Hall, Av. Ayrton Senna, 3000 – Barra da Tijuca
Entrance: R$100- R$400, available at ticketsforfun.com.br.