By Nathan M. Walters, Senior Contributing Reporter
RIO DE JANEIRO, BRAZIL – Buddy Guy, the legendary blues guitarist responsible for popularizing "Sweet Home Chicago" and one of the backing musicians for the President Barack Obama's recent and brief ode to his native city, will be performing at Vivo Rio next Friday, May 11th.
Rio continues to welcome the some of the "best" international performers. Tony Allen, referred to as "the best drummer who has ever lived" wowed a Sunday crowd at Circo Voador. Now, Buddy Guy, who Eric Clapton has said is "without a doubt the best guitar player alive" will visit the city for a Friday night show bound to have blues-lovers standing in awe.
Buddy Guy is one of the few living and regularly touring blues artist from the start of electric Chicago style blues. Born in Louisiana, Guy started his career with Chess Records (the pivotal Chicago-based label that produced legendary blues acts like Muddy Waters, Howlin' Wolf, and the recently-departed Etta James) working with blues legends like Muddy Waters, Sonny Boy Williamson II. To this day he remains one of the most innovative and influential living blues guitarists.
He, along with friend and collaborator, B.B. King, maintain a top position in the blues pantheon, the link between the explosive but secluded first wave of modern recorded blues and the generation of English guitarists in the sixties (among them: Eric Clapton, Jimmy Page, Jeff Beck) that would ultimately retool the original blues model and, as a result, change rock n' roll forever.
Guy has an impressive solo catalog, including blues classics "Damn Right I've Got the Blues" and "Sweet Tea", but is also known for his talented renditions of blues staples, "Sweet Home Chicago" and "Mustang Sally" among them. His most recent album, "Living Proof", is an introspective look at a legendary career in blues.
"Buddy Guy shows are the best," mentions Monte Railey, a blues historian. "Not only is he a killer guitarist, but an amazing vocalist and storyteller. One of the best part of Guy's live performances are the stories. He has been around for so long, playing with so many blues legends, it is great when he shares his experiences with the audience and then blows them away with his playing, a must see."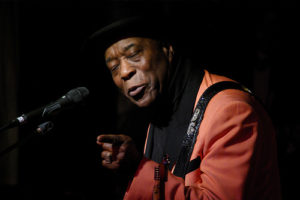 Rio's own Botafogo Social Club resident DJ, Tee Cardaci said, "If you're a fan if Chicago Blues, Jimmy Hendrix, swamp funk or Chess Records, these are all reasons to get to this show, as Mr. Guy has had a major influence on all of them! This is a true living legend and cultural icon here!"
Guy has visited Brazil before, most recently he played Claro Hall (now Citibank Hall) in 2005 and has visited the country multiple times since the Eighties. His recent performances at blues festival in the U.S. have been greeted with rave reviews, especially his killer set at the 2011 King Biscuit Blues Festival in Helena, Arkansas.
Tickets are still available for Friday's show, starting at around R$100 with student discounts. As with some other recent performers visiting Rio, it is an opportunity to catch a legendary artist in the Cidade Maravilhosa.
Vivo Rio
Friday, May 11th, 10PM
Av. Infante Dom Henrique, 85
Parque do Flamengo
Rio de Janeiro – RJ