By Georgia Grimond, Senior Contributing Reporter
RIO DE JANEIRO, BRAZIL – Two of Brazilian most famed and respected performers, Caetano Veloso and Gilberto Gil, arrive in Rio today December 4th to play three nights at Circo Voador in Lapa. As part of their international tour "Dois amigos, um século de música" (Two friends, a century of music) the pair will take to the stage together in this landmark show.
Recently described as the Paul McCartney and Mick Jagger of Brazil by the London Evening Standard, the pair are accomplished performers with great stage presence and remarkable musical repertoire. Soulful and serene, their voices and guitar skills perfectly compliment each other.
They are both now in their seventies and celebrating a century of work with this tour. They played Europe in June and July, where they were well received. Since then they have been touring a number of Brazilian cities, and Argentina and Uruguay.
Caetano and Gil were both born in Bahia state. They first met in 1963 at the University of Bahia in Salvador. There they struck up a friendship and partnership based on their interest in international music, cinema, visual arts, theater and all kinds of Brazilian art.
In the Sixties the two men were crucial in the development of Tropicalismo, a style which incorporates other art forms as well as music. More recently, taking into account their appropriation of samba, bossa nova, rock and reggae, they have become well known for their style of Música Popular Brasileira (MPB or popular Brazilian music).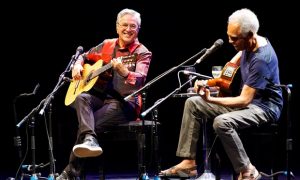 In the Sixties, however, the military dictatorship that governed Brazil considered their music and views to be divisive and threatening. Though no reason was given, in 1969 they were both arrested and imprisoned. They were released on the condition that they would leave the country.
The pair went to London for two years where they became involved with the rock and reggae music scenes there, and were inspired by the music of The Beatles, Bob Dylan, Bob Marley and Jimmy Cliff. Gil played with Pink Floyd.
Returning in the Seventies, both men continued to make music. Gil has made close to sixty albums and with around four million copies sold and has won nine Grammys. His most recent work, Gilbertos Samba, is a reinterpretation of songs recorded by his hero João Gilberto.
Veloso, with nine Latin American Grammy awards and two Grammys, as well as tens of albums sold has remained a constant creative influence and best-selling performing artist and composer over the past fifty years. In 2002, he put out an album, Live at Carnegie Hall which he recorded with David Byrne of Talking Heads.
The pair have a long association with Lapa's renowned canvas-covered concert venue, playing there and supporting its projects when it was located in Arpoador in 1982. Tickets for this weekend's shows are already sold out, ensuring a full house and many supporters of what are sure to be a great – and rare – performances.