By Vânia Maciel, Contributing Reporter
RIO DE JANEIRO, BRAZIL – Carnival is coming and technical rehearsals at the Sambódromo are attracting more and more crowds. Last Saturday Porto da Pedra took over the Sapucaí with enthusiasm putting on a great show, singing their theme-tune in preparation for their appearance Monday, March 7th in this year's Carnival competition.
Porto da Pedra is a young Samba school in comparison to most others in the Grupo Especial (Special Group).
Formally named G.R.E.S. Unidos do Porto da Pedra, was founded in 1978 as a bloco (Carnival revelers troupe), of Porto da Pedra Football Club, from São Gonçalo, just North of Niterói.
In 1981 Porto da Pedra acquired Samba school status and won second place in their hometown contest. In the following year the school won the championship and ascended to São Gonçalo's Carnival main group.
There was no parade in São Gonçalo in 1983, but in 1984 Porto da Pedra manged to take second place again in the contest. Then for the next ten years they could not keep up with their growth and decided not to compete.
They only returned to the Carnival scene in 1994, when thanks to local entrepreneurs and Carioca Samba figures, the school was invited to participate in Rio's Carnival joining its fifth division, far away from its Sapucaí dreams.
Even so, in 1994 the LIESGA (Independent League of Samba Schools of the Access Group) was created due to political disputes within AESCRJ, the organization responsible for regulating Samba schools of the Grupo de Acesso (Access Group).
Porto da Pedra was then invited to join LIESGA and the Grupo de Acesso B, and through this manoeuvre they bypassed several upgrade steps, getting the opportunity for promotion to the Grupo Especial much sooner then normal.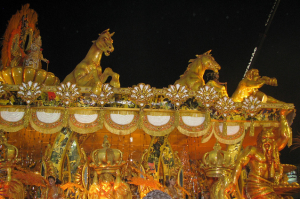 At that time the tiger was chosen as the school symbol and the actual logo created. Since 2002 they have been in the top group, although not taking any titles it has kept a presence, a feat for a young Samba school.
For 2011 the school pays tribute to children's playwright Maria Clara Machado, who also founded the Tablado Theatre, a very respected actors training academy. She is best known for her children plays which have been staged throughout generations.
Her most famous plays, Pluft o Fantasminha (Pluft the Little Ghost) (1955), A Bruxinha que Era Boa (The Little Good Witch), O Rapto das Cebolinhas (The Kidnapping of the Spring-onions), O Cavalinho Azul (The Little Blue Horse), and Tribobó City, are very much a part of Brazilian culture, and are expected to be represented in the parade.
The school's carnavalesco stated, "I want to keep her work alive retelling her stories on the Sapucaí."
Participants from Tablado Theatre academy will be parading, some of them are now renowned professionals as is the case of Sura Berditchevsky, who will play Mother Ghost in the parade.
Porto da Pedra Samba school is further from Rio then most schools, but still worth a visit if possible. For more information and directions, please see their website.