By Felicia Bryson, Contributing Reporter
RIO DE JANEIRO, BRAZIL – When Carnival in Rio starts, streets are packed and there are people celebrating everywhere. However, it can all be a bit overwhelming to someone who doesn't know where to start. Even with a list of all the blocos and their times, one might not know what to expect. To help, here is a five day itinerary guaranteed to hit the highlights of both Rio and Carnival during a short stay.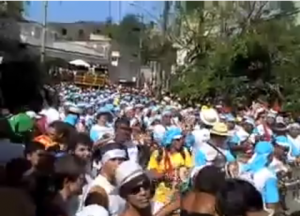 Beginning on Friday, March 4th start off in Santa Teresa at bloco Carmelitas, where the old colonial buildings along with the cool breeze will enchant you. This bloco pays homage to the Carmelitas Convent, whose locally famous nuns live barefoot. The bloco commences on Carnival Friday at 2PM and goes on all day long.
If you find yourself overheated and tired, why not pay a quick visit to Floresta da Tijuca, a national park within the city of Rio, which has waterfalls to go and shower under. It's only fifteen minutes away, and the temperature there is always around ten degrees cooler than everywhere else. It is also advisable to get a good night's sleep since the fun starts early the next day.
On Saturday, March 5th the Cordão da Bola Preta is the biggest, oldest and most traditional bloco parade in Rio and at its last rehearsal attracted close to a hundred thousand people. This is where all kinds of people come together, no matter their background. Sometimes, famous musicians perform without announcement, which for most visitors is an added bonus. The parade starts off in Cinelandia in front of the Teatro Municipal (Municipal Theater) and officially begins at 9AM.
Carnival Sunday, March 6th is the first major day of the world-famous Samba parade at the Sambódromo. This is where Rio Samba schools come to perform and compete. In contrast to blocos, this event is not free and it is advised to buy tickets well in advance (for Sunday or Monday).
Doors are opened at 5PM, the ceremony begins at 8PM and the parades start at 9PM officially. As these celebrations last around twelve hours, throughout the night, plenty of rest is recommended beforehand. Spending the day at one of Rio's many beaches before heading to the Sambódromo down town is a good option in order to relax, if one does not want to sleep away inside.
For Monday, March 7th, most people, even if not football (soccer) fans know Brazilian football player Ronaldinho, who has started his own bloco Samba, Amor e Paixão (Samba, Love and Passion). The bloco theme is inspired by Flamengo's football team, the club he now plays for. Although a strong hangover is a likely challenge, this is an event worth going to in Barra da Tijuca by the Lucio Costa bridge at 3PM.
On Tuesday March 8th, to end the Carnival holiday there are around one hundred different blocos to choose from. The gay-friendly Banda de Ipanema is a very popular street party (Ipanema 4PM), as well as bloco Bagunça o Meu Coreto, which translates Mess up my Bandstand and is one of the less crazy blocos even though its name indicates otherwise (Flamengo 10AM). For more information on blocos see past articles and listings.
During the celebrations it is important to drink lots of water in order to stay hydrated in the heat, as well as to wear light clothing and comfortable shoes. Some may be weary of the large blocos and expensive Sambódromo parade, but Carnival is everywhere in Rio, so even in smaller doses the spirit is impossible to miss.