By Chesney Hearst, Contributing Reporter
RIO DE JANEIRO, BRAZIL – Soundgarden frontman and former frontman for the band Audioslave, Chris Cornell will bring his solo acoustic tour to Rio's Vivo Rio stage on Saturday, June 15th. The American musician will perform songs from his solo career which has, to date, included three studio albums; Euphoria Morning, Carry On, and Scream, and one live solo album released in 2011 entitled, Songbook.
The show also will feature intimate versions of the singer and guitarist's work with the bands; Soundgarden, Audioslave and Temple of the Dog, a band Cornell formed in 1990 and fronted with Pearl Jam lead singer Eddie Vedder.
Cornell previously played in São Paulo during the SWU Festival held in Paulínia in 2011 and he will return to there to play at the Golden Hall on Thursday, June 13th, before making his way to Rio.
"I am a huge fan and saw him twice," Rio resident Juliana Moreira Leite told The Rio Times. "It is just beautiful, I saw him in a small theater. He has the most incredible voice and besides he is gorgeous. It was a great show for the Euphoria Morning tour."
Cornell's musical career began almost twenty years ago with the formation of Soundgarden in 1984. Based in Seattle, Washington, United States, the band released their first EP entitled, Screaming Life, after signing with Sub Pop Records in 1987 and continued to grow in popularity in the Nineties as part of the famous grunge movement in music.
Grunge was an alternative rock sub-genre that began in the mid-Eighties in and around Seattle and reached full popularity in the early to mid-Nineties with the mainstream success of the bands Nirvana, Pearl Jam and Alice in Chains, who will play at this year's Rock in Rio music festival.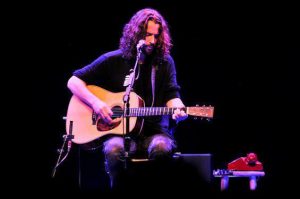 For Soundgarden, it was the 1994 release of the band's fourth studio album Superunknown that propelled them into the mainstream. The third single released from the album, "Black Hole Sun", written by Cornell, peaked on Billboard magazine's "Hot Mainstream Rock Tracks" list of most-played songs on mainstream rock radio and its video took home the award for Best Metal/Hard Rock Video during the MTV Video Music Awards in 1994.
After Superunknown, Soundgarden released Down on the Upside in 1996. The album, although well received by critics, fell short of the level of success obtained by Superunknown. Then due to internal conflicts within the band following their involvement in the 1996 Lollapalooza tour and a separate world tour, Soundgarden disbanded in 1997.
"We broke down communicatively, because we had all these other people peripherally involved in the band," Cornell told the StarTribune earlier this year. "Decisions were made that we didn't all agree on, or even know about. That created tension."
Cornell went on to release his first solo album, Euphoria Morning in 1999 and in 2001 he formed the band Audioslave with former members of the American metal/rock/rap band, Rage Against the Machine. Audioslave released three studio albums between 2001 and 2007, the year they disbanded. During that time, they also received three Grammy nominations.
Cornell often includes the Audioslave songs; "I Am The Highway","Doesn't Remind Me" and "Like a Stone" in his acoustic sets.
Soundgarden reunited in 2010 to issue a compilation album entitled Telephantasm: A Retrospective and briefly toured in support of it. Then in 2011 they released a live album, Live on I-5 and toured North America. In November 2012, they released their sixth studio album and first album of new material in sixteen years, King Animal.
With a wealth of material to choose from and a fondness for also including covers during his sets, Chris Cornell's solo show on Saturday night promises to be an experience for both fans and newcomers to his work.
Who: Chris Cornell
Where: Vivo Rio, Av. Infante Dom Henrique, 85 – Parque Flamengo – Flamengo
When: Saturday, June 15th, 9:30 PM
Tickets: Tickets Prices range from R$125-R$750 (Sector VIP) and can be purchased online here