By Fiona Hurrell, Contributing Reporter
RIO DE JANEIRO, BRAZIL – Christmas is without a doubt the season for celebration, and luckily Rio is a city that loves a good get-together. This year, expatriates and foreign residents of the Cidade Maravilhosa can join their fellow countrymen and enjoy a number of family-friendly festivities scheduled to take place during December.
The American Society of Rio (AmSoc Rio) will kick-start the festivities with their annual Holiday Eggnog Party held on Saturday, December 10th from 10AM to 1PM. The venue this year (as in 2010) is the Casa Maternal Mello Mattos, a large colonial-style home in Jardim Botânico.
Families are encouraged to bring their children as the house offers plenty of activities and of course Santa Claus will be paying a visit, armed with a sack of presents.
For AmSoc Rio President David Huffard, the party is a good chance for members to relax and enjoy themselves as well as learn about the various charitable endeavors which have taken place over the course of the year.
Huffard explains "This will be a great opportunity for our members to see one of the charity organizations that we support … and also to have a wonderful year-end party in a welcoming and beautiful setting."
The event will close with their annual raffle draw which includes a number of exciting prizes including a pair of American Airline tickets for a round trip to the U.S., a mini break in Penedo and several dinners for two at some of Rio's finest restaurants.
Huffard adds "For the children the high point is always the arrival of Santa. For the adults, the high point is our year-end raffle draw."
Tickets for the event can be purchased at the door and cost R$10 for members and R$15 for non-members.
On the same day,starting at 5PM, The British and Commonwealth Society of Rio de Janeiro (BCS) will be hosting their annual BCS Christmas Party for both members and non-members in the Jubilee Hall on Rua Real Grandeza 99, Botafogo.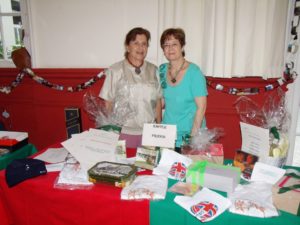 Guests will be treated to a high tea party followed by carol singing, whilst Father Christmas will be making an appearance bringing gifts for the Children.
BCS Events committee chair Christine Rutherford is looking forward to the event which is sure to appeal to all who attend, explaining "We're planning things that would attract kids and their families … Father Christmas will be present, and will distribute gifts for the kids who join a drawing and painting contest."
In keeping with tradition, The BCS has planned a giant raffle draw to close the party which, according to Rutherford, is always popular amongst guests.
She explains "The biggest high-point is the giant raffle, which always attracts people! We'll have great prizes, such as a weekend for two at Copacabana Palace!"
Tickets can be purchased at the door and will cost R$20 for members, R$35 for non-members, R$15 for children between 12-18, over-sixties and students, and free entry for children under twelve. Each ticket includes a complimentary raffle coupon.
Alternatively, for a more traditional, religious, celebration, the Christ Church in Rio has organized a carol service followed by a mince pie reception on Sunday 11th December. They will also be holding services on Christmas Eve and Christmas Day. For more details visit the website.