By Doug Gray, Contributing Reporter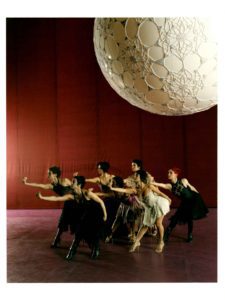 RIO DE JANEIRO – Sitting on Praca Tiradentes for nearly two centuries, the Joao Caetano Theatre in Rio is the perfect home for the ninth and latest of the Deborah Colker Dance Company performance masterpieces, 'Cruel'.
Opening at the end of March to a huge fanfare of approval from packed audiences, Brazil's queen of modern dance again uses the spaces of the stage to thrilling effect, opening it up into dimensions rarely seen with the use of rolling mirrors and stunning costume.
The Carioca, who will also go on to direct the Cirque Du Soleil in 2009 once this run ends in June, always emphasizes the role of the spectator in her shows, stating; "The stories are there so they may be appreciated by each viewer, in each person's particular way."
This becomes unavoidable from the opening movement – 'O Baile' – with the majority of the 16 ballet dancers performing their own mini-scenes that combine as an introduction to themselves and the story, and it is all you can do to try and focus on one pairing for long enough to understand their meaning before being distracted to another corner of the stage.
The scene changes to one based around a five meter wooden table on wheels. The idea of family relations being played out around, on and under it, the spinning table is a typically Colker medium to represent the relationship between space and movement, a recurrent theme in her work.
Far from overindulging the senses though, the graceful yet manic air is added to by the intensity of the music; a thrilling combination of atmospherics by Ennio Morricone, avant garde madness of Moondog and a vivacious Vivaldian waltz.
But it is when the music of Venetian Snares aka Aaron Funk is unleashed on the second act – 'A Familia' – that everything truly comes together. In the most arresting section the crew spin four large mirrors, darting in and out and literally through the center of them, creating some dazzling reflections and a hugely impressive display of choreographic timing. All the while Aaron Funk's clanging, industrial and unnervingly strange electronic music plays its part to perfection.
Having traveled around Brazil after a hugely popular first run in Rio, the show will return until Sunday, April 12th, at the Joao Caetano Theatre.