By Chesney Hearst, Senior Contributing Reporter
RIO DE JANEIRO, BRAZIL – Known for his soulful ballads and hip-hop-infused folk songs, British singer-songwriter and guitarist Ed Sheeran will perform live in Barra da Tijuca's HSBC Arena on Thursday, April 30th. With hits that include "Sing", "A Team", and "I See Fire", the 24-year-old Sheeran broke a new record earlier this month, becoming the first British artist to reach over two billion streams on Spotify.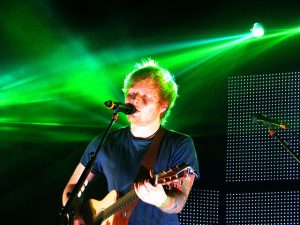 His biggest single, to date, "Thinking Out Loud", generated sales of over 1 million copies worldwide and, at the time of this report, is ranked number six on Spotify's Brazil Top 50 chart.
Currently touring Brazil for the first time during his career, Sheeran will arrive in Rio after performing a sold-out show in the Espaço das Américas venue in São Paulo on the 28th and an additional show held at the same venue on the 29th.
The ongoing world tour is in support of Sheeran's second studio album entitled, x (multiply). Produced by Rick Rubin and released during June of last year, album sales have topped five million copies worldwide.
Featuring the singles "Don't" and "Bloodstream" in addition to "Sing" (feat Pharrel Williams), "Thinking Out Loud", and "I See Fire", which was also featured on the soundtrack for the film "The Hobbit: The Desolation of Smaug," the album received Grammy Award nominations for Best Pop Vocal Album and Album of the Year and won the 2015 Brit Award for Best British Album.
Sheeran was born in Hebden Bridge, Yorkshire, England on February 17, 1991 and raised in Framlingham, Suffolk. He began writing songs in high school and later recorded his first EP, The Orange Room, in 2005.
Building a name for himself through extensive touring by collaborating with artists including Leddra Chapman, Wiley and Sway, Sheeran went on to release two additional EPs: You Need Me in 2009 and No. 5 Collaborations Project in January, 2011.
After signing to Asylum/Atlantic Records in March 2011, Sheeran released his debut studio album entitled, +. Featuring the hit single "A Team" and the singles "Lego House", "Drunk", "Small Bump" and "Give Me Love", the album proved to be a commercial success in several countries and has been certified platinum six times.
During the concert in Rio, fans can expect to hear the best of both of Sheeran albums and their singles live. British singer-songwriter Antonio Lulic will open the night.
Who: Ed Sheeran
When: Thursday, April 30th
Where: HSBC Arena, Av. Embaixador Abelardo Bueno 3401, Barra da Tijuca
Entrance: R$240