By Sarah Brown, Contributing Reporter
RIO DE JANEIRO, BRAZIL – With the customary New Year's resolutions just around the corner, a course in cinema studies with the Academia Internacional de Cinema (AIC, or International Academy of Cinema) could be promise worth keeping as the school begins eight new courses from January, 9th.
The common goal of the courses, according to the school, is to develop students' creative potential and technical skills, working theory and practice, with disciplines that comprise all areas of filmmaking.
American expatriate in Rio, and president of the Rio Film Commission, Steve Solot, who also runs an separate audiovisual training center, the Latin American Training Center-LATC explained, "In today's world of digital media, multi-platform distribution and dynamic consumer demand for diversified audiovisual content, formal film and television training is essential for the emerging filmmaker."
The eight holiday courses by AIC will take place at the school's headquarters in Botafogo, and will include Cinema, Photography Direction, Edition, Screenplay, Director Assistance, History of Cinema, Cinema Teens and Budgets, the latter a completely new course for the school.
The AIC is a film school with branches in São Paulo and more recently, in Rio de Janeiro. Every year the school hosts a series of events and lectures open to the public, as well as special classes with filmmakers, providing a series of discussions about cinema.
 
The Cinema course will begin on January 9th. In it, the student experiences each step of producing a film, from script to editing, resulting in the creation of a short film. At the end of the course, a panel discusses the films.
On the same day, begins the course of Photography Direction, the most sought after at the AIC Rio branch, coordinated by Cleumo Segond, with the objective of developing skills related to the area.
On the 10th, Livia Arbex begins the course of Editing, composed mainly of practical classes in Premiere. Each student operates an exclusive platform and deals with the assembly of different audiovisual formats.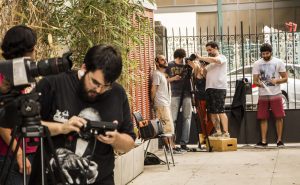 On January 16th, Screenplay, with lessons by Bebeto Abrantes, will present the art and technique of writing stories for the audiovisual and developing a short film script. The program takes as reference authors like Jean-Claude Carrière, Pascal Bonitzer, Robert Mckee, Christopher Vogler, Michel Chion, Aristotle, David Mamet, among others.
Also on January 16th, the Direction Assistance course will begin with classes by Mariana Guimarães and focuses on fictional cinema. The course covers the roles of the assistant director in the film process, encompassing pre-production and production.
 
On January 18th, two holiday courses will begin which are History of Cinema and Cinema Teens. The first one aims to make an aesthetic balance of cinema, analyzing language, narrative and market. The classes will be taught by Rodrigo Fonseca and Marcelo Müller, journalists specialized in cinema and in studying the main cinematographic currents.
The second course is for young people who want to learn cinema in practice. Recommended for between 13 and 17 years old, students will be able to experience the routine of a set, film-making, at the end, create a short film that will be screened in a special session for parents and guests.
 
What: Academia Internacional de Cinema (the International Academy of Cinema)
Where: Rua Martins Ferreira, 77 – Botafogo, Rio de Janeiro – RJ, next to Cobal do Humaitá.
Contact: (21) 2537-8183; www.aicinema.com.br
Courses:
Cinema – From January, 9th to February 3rd, Monday to Friday, from 9AM to 6PM.
Photography Direction – From January 9th to January 30th, Monday to Friday, From 7PM to 10:30 PM.
Edition – From January 10th To February 3rd, Monday to Friday, from 7:30 PM to 10:30 PM.
Screenplay – From January 16th to 31st, Monday to Thursday, from 7:30 PM to 10:30 PM.
Director Assistance – From January 16th to 30th, Monday to Friday, from 7:30 PM to 10:30 PM.
History of Cinema – From January 18th to February 2nd, Monday to Thursday, from 7:30 PM to 10:30PM.
Cinema Teens – From January 18th to February 3rd, Monday to Friday, from 1PM to 6PM.
Budgets – From January 23rd to 27th, Monday to Friday, from 7:30 PM to 10:30 PM.