By Fiona Hurrell, Contributing Reporter
RIO DE JANEIRO, BRAZIL – Fatboy Slim, otherwise known as DJ Norman Cook, will be touring Brazil in January, performing at arenas across the country, namely in Brasília, Florianopolis, Rio de Janeiro, São Paulo, Belo Horizonte and Campo Grande. The internationally acclaimed artist will be appearing at Riocentro in Barra da Tijuca on Thursday, January 19th at 10:30 PM, on the eve of Rio's first public holiday since the New Year.
The British DJ, whose diverse mix of house, electro and techno cemented his rapidly growing fame with the release of his 2000 album titled "Halfway between the gutter and the stars". This was eventually superseded by "Palookavile" in 2004, both of which brought the artist international recognition and success.
Cook later became a hit with the Carioca's following a knock out performance, seen by over 400,000 people at Copacabana beach on February 10th, 2007. During the set, Cook delighted the crowds by playing a remodeled version of DJ Freddie le Grand's "Put your hands up for Detroit" by changing the lyrics to "Put your hands up for Brazil".
Fatboy Slim's upcoming performance will take place in one of Latin America's largest and most contemporary convention centers, and, since Riocentro underwent a R$70 million refurbishment in 2007, it can now accommodate events of much larger proportions than before.
Estimations predict that over 15,000 people will be attending the show. Public Relations officer Carolina Sales of Rio Music Conference, responsible for promoting the event, explained: "The pavilion that the concert will take place in is fully air conditioned and has a structure similar to a big club. In the last five years Riocentro was elected best convention center in South America by the World Travel Awards."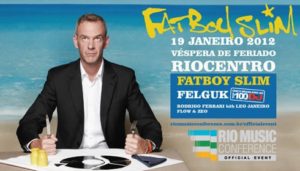 Fatboy Slim DJ Norman Cook is the latest international DJ to perform in Brazil following an impressive line up over the last six weeks, which started with DJ Cral Cox on December 16th, and followed by David Guetta on December 30th.
Brazilian DJ Fabricio Pecanha, who some feel has established himself amongst the likes of Guetta and Cook, playing at venues throughout Europe such as the coveted Amnesia club in Ibiza, said "Brazil has become the obligatory route for the biggest DJs". A testament to the fact the Rio is emerging in to the global music scene.
The concert will act as the official warm-up event for Rio Music Conference 2012 festival, scheduled to take place at Marina da Gloria from February 14th to 25th. It will comprise three days of music workshops and seven days of open-air parties, with the crème de la crème of electronic music.
Tickets are on sale now and start at R$79 for non-VIP, or R$144 VIP for women and R$171 VIP for men. Fans are advised to book early to take advantage of promotional offers and discounts. Visit the web site for details. Alternatively, tickets are sold at 'Chilli Beans' Kiosks in shopping Leblon, Shopping da Gavea, Rio Design in Barra da Tijuca or in Rio Sul Mal in Botafogo.