By Sarah Coursey, Editor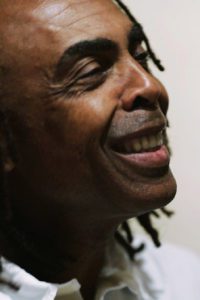 RIO DE JANEIRO – The roots of Africa in Brazil run as deep as the country's settlement. The African culture has gifted its music, dance and culture to Latin America, and continues to be celebrated in the Back2Black Festival, to be held at the Estação da Leopoldina on 28, 29 and 30 August. It promises to be an event that diffuses conversations about politics, the arts and heritage, as well as showcasing some of the continent's best modern talents.
Three days of conferences, shows, dance concerts and films hope to promote encounters between artists, activists and anyone interested in learning more about the multilayered and often complex influences of Africa in contemporary society. Literature and fashion will be juxtaposed, as well as consumerism and theater, creating a provocative atmosphere for both audience and performer.
To start off the weekend, on Friday August 28 the Nobel Peace prize nominated musician and activist Sir Bob Geldof will be giving a talk along with Breyten Breytenbach titled "Constructing Utopias". Geldof is known for his anti-poverty efforts in Africa and is the organizer behind the charity super-concerts Live Aid and Live 8. His presence at the festival lends a tone of political legitimacy as he has spent the better part of the past 30 years trying to end hunger, especially on the African continent.
Geldof has been widely quoted with the outspoken statement, "We live in a broken world which has never been healthier, wealthier or bizarrely, free of conflict, but some 500 kilometers south of here (he was speaking in England) they die of want, … It's not only intellectually absurd, but also morally repulsive."
The question of Africa is about much more than poverty and want. It is about music, dance, rhythm and joy – much of which will be on offer at Back2Black. Geldof's talk is being followed by two concerts from the heavyweights Gilberto Gil and Youssou N'Dour.
Gil is known for his eclectic musical style incorporating rock, samba, African music and reggae. He also served as Brazil's Minister of Culture from 2003 to 2008.
Youssou N'Dour, who also performed at Geldof's Live 8 in London, is one of Africa's most well-known musicians. Born in Dakar, his work absorbs the entire spectrum of Senegalese music, often filtering through the lens of rock and pop. On Saturday, August 29 the singer will also be speaking on a panel titled "Culture and Evolution".
The program for Saturday August 29 focuses on marginalized or fringe music, be it outside the commercial spectrum or originating in a favela. The DJ and rapper MV Bill, from Cidade de Deus (City of God), the favela made famous for the film of the same name, will be on the turntables. In addition, Funk Carioca will be mixing their unique concoction of Baile Funk, a style of music originating in Rio's favelas that incorporates rap, samba and dancehall.
Sunday will offer a rare occasion to see Gilberto Gil speak on political matters, as he leads the 5PM conference on "Africa in the Creation of the World. The Future". In the evening, there will be a samba concert highlighting big names from Brazil, Africa and Cuba.
It is appropriate that Rio is playing host to this dynamic fusing of the arts and politics on the topic of Africa and African heritage. Ironically, the same people once imported as a slave labor force to build what we now know as Rio de Janeiro are the same cultural influencers that have shaped what the city has in turn exported to the world, in music and dance distinctly Brazilian. Of course, it would not be so without Africa. This is the melting pot of Brazil, and the unique dualism present at street-level today, where the vestiges of colonial European meet the cradle of civilization to create a distinct language of sight, sound and rhythm.