By Michela DellaMonica, Contributing Reporter
RIO DE JANEIRO, BRAZIL — With a sizable Middle Eastern community in Rio, one can find many restaurants to indulge in traditional dishes such as hummus, babaganoush, kaftas and Lebanese rice with lentils and fried onions. From up-market eateries to on-the-go wraps and esfihas, Rio's culinary scene offers something for those with a craving for the regional tastes from Asia.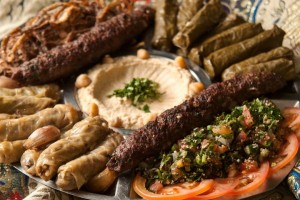 Considered one of the best Arabian restaurants in the city, Amir Restaurant is located in Copacabana in Praça do Lido (Lido Square). A deli turned restaurant, Amir is owned by Canadian expatriate Nicola Habre.
There is a private room for parties and meetings on the second floor, which is hard to find in Rio. "Personally, I think the food here is fantastic: fresh, delicious, and good value for money," says Mr. Sanjeev Chowdhurry the Consulate General of Canada which holds monthly happy hour gatherings at Amir.
"The lunch buffet is so vast and considered one of best places to lunch in Zona Sul [South Zone]." A recommended dish is an appetizer sampling served for four people consisting of: tabule or fatouche, hummus or babaganoush, mini kibe (baked meat), falafels and mini esfihas.
Another gem is Yalla Bistro located on the refined main street Dias Ferreira in Leblon. For a nice sit down dinner, one suggestion is to try the Carousel Mezzes dish prepared with hummus, kibe, falafel, stuffed grape leaves and toasted pita bread.
One of the oldest Arabian restaurants in Rio, and arguably one of the best, is Restaurant Árabe Sírio e Libanês in Centro, founded by the Lebanese Jawad Salim Ghazi in 1965 and is today run by him and his daughter, Luciana Ghazi. What maintains the restaurant as one of the oldest and traditional Arab restaurant Rio de Janeiro and Brazil, is the artisanal and original recipes and dishes served that Jawad Salim Ghazi brought with him from Lebanon.
Some local fast food options can also hit the spot, outside of the massive Habib's franchise chain. Two family run restaurants that do Arabian on-the-go food well here in Rio is the popular Laffa Kebab, and the renowned Rotisseria Sirio Libanez in Largo do Machado.
Laffa Kebab's specialty at all of their locations, as the name suggests, is the kebab also known as shawarma. Cubes of marinated meat in fluffy baked pita bread, made to order and wrapped to go. The flagship item on the menu is the lamb kebab which includes hummus, lamb slices, lettuce, fresh tomatoes, onion with sumak, and kruv salad, a traditional Middle Eastern coleslaw with special seasoning, yogurt sauce and crispy fries.
The other fast food option Sirio Libanese, is tucked away in a gallery mall in Largo do Machado in Flamengo, but worth the hunt. This family owned establishment has been around for 35 years offering freshly baked esfihas, refreshing juices made to order, sizzling kaftas and fresh hummus.
"Whenever I'm pressed for time during lunch I like to come here and enjoy the esfihas and Lebanese rice with lentils and fried onions," says Marlene de Mello. "The fast service and friendly faces on top of the delicious food is what keeps me coming back."
Arabian food can also be found on the beaches of Zona Sul like Copacabana and Ipanema. Dressed in long white Arabic garb, venders walk up and down the beach shouting "esfiha!" a traditional Arabian turnover filled with cheese, meat or chicken.