By Michela DellaMonica, Contributing Reporter
RIO DE JANEIRO, BRAZIL — The Cidade Maravilhosa is world-famous as a beach city, with the corresponding body and health-conscious culture to match. Recently, traditional sporting activity on the beaches of Zona Sul (South Zone) like volleyball, football (soccer) and surfing have been joined by a new wave, circuit training groups.
Beach circuit training workouts include a series of exercises and obstacles with the aid of elastic bands, exercise balls, cones and hula hoops. From Flamengo beach to Recreio, these workout tents have proven popular with a variety of fitness enthusiasts, from beginners to experienced athletes.
There are various programs in Flamengo, Leme, Copacabana, Ipanema, Leblon, São Conrado and Barra da Tijuca. Starting in the early evening before sunset, these exercise groups set up in the sand along the promenade in operations of differing sizes.
"About seventy percent of trainees are female," said Thiago Porrozzi, instructor at Circuito da Praia in Flamengo. Yet that doesn't mean men cannot benefit from this training program as there are different levels and devoted fitness professionals who help along the way.
Apart from the attraction of being in the open air surrounded by beautiful scenery, circuit training on the sand challenges different muscle groups than those used exercising at the gym. "It's a workout that improves conditioning and aerobic endurance," said Marcos Paulo, instructor at Varff another circuit training program held on Flamengo Beach.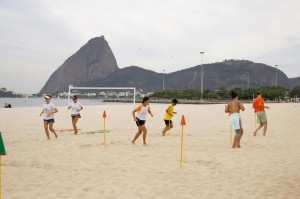 For those bored with a traditional gym, even the equipment used during circuit training – like a 15kg sandbag strapped to the trainee's back – should add some flavor to their training.
"I sit all day at my job and I always get bored at the gym," says architect Fernanda Santos, adding "I tried circuit training once for free and immediately felt a difference in my thighs while being distracted with the different obstacles and courses that were involved."
"Unstable terrain such as sand requires the trainee to use their stabilizing muscles of their back and abdomen," emphasizes Professor Mariana Brito, a group instructor in Lagoa. "This technique gives firmness to the body and helps prevent injuries caused by sudden movements." A 45 minute session can burn 400 to 600 calories, similar to an hour long spinning class.
The contractual sign-up is usually an easy and relatively informal process, and training is scheduled in the morning or evening, for an average monthly fee of R$120-R$150. There is also the option to try the circuit obstacles for free before purchasing a week or a month's worth of training.
For an occasional workout routine, Saturday's typically have special prices, ranging from R$60-R$80, but Sundays are usually rest days. The circuit training businesses appear to be entrepreneurial opportunities for the trainers as well, since the city of Rio does not charge taxes or fees for the use of public space.