By Chesney Hearst, Senior Contributing Reporter
RIO DE JANEIRO, BRAZIL – The Brazilian Ministério Público Federal (MPF) has opened an investigation into the source of funding for the 2015 Rio Carnival Champion Beija-Flor's parade. The samba school allegedly received partial funding from groups connected to the African nation of Equatorial Guinea and those funds may be tied to a possible money laundering operation.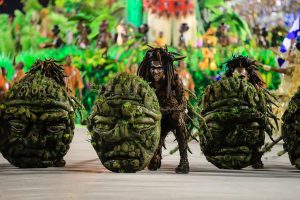 This year Beija-Flor's enredo (parade theme) celebrated Equatorial Guinea and the school has come under fire due to alleged ties to nation's president Teodoro Obiang Nguema Mbasogo and to his son, Teodoro "Teodorín" Nguema Obiang.
President Teodoro Obiang, currently one of the longest serving leaders in Africa, took control of Equatorial Guinea during a 1979 coup and during his 35-year rule has been accused of numerous human rights violations and acts of corruption.
Obiang's 45-year-old son, often referred to as Teodorin, has reportedly been under investigation for money laundering by the Prosecutor of the Republic, Orlando Monteiro da Cunha since 2013. Teodorin allegedly owns properties in both São Paulo and Rio de Janeiro as well as at least eight luxury vehicles.
"The supposed donation intended for Beija-Flor will be analyzed within the context of this criminal procedure initiated in 2013 in collaboration with the Justices of the United States and France," prosecutor Orlando Monteiro da Cunha told O Globo.
According to Bloomberg Business, Teodorín agreed to relinquish assets totaling US$30 million as part of a Kleptocracy Asset Recovery Initiative last year and had property seized by the French government in 2012.
De cunha later added about the ongoing Brazilian investigation; "We found that Teodorín acquired real estate and furniture of the highest value in the country, which suggests a typical situation of money laundering in Brazil, or concealment of property derived from illegal funds.The investigation is confidential, because we are waiting for documents from countries that already confiscated his goods, to be able to ask for more severe legal action."
Despite the controversy, which began brewing before the Carnival parades took place, Beija-Flor was declared the 2015 Rio Carnival Champion earlier this week on Wednesday, February 18th, marking their 13th overall Carnival win.
While reports first stated that the school received parade funding directly from Equatorial Guinea's president and/or his son or those connected with government, the school stated it received "cultural and artistic support" from the nation. Representatives from the school have not publicly released the full details of the parade budget nor spoken about the allegations.
Meanwhile, the government of Equatorial Guinea released a statement that the school was not funded by the government but by Brazilian companies that worked in the country.
During Beija-Flor's winning parade, Teodorín was in attendance. Reportedly dressed in Beija-Flor's colors of blue and white, he waved a school flag while cheering them on from a rented camarote (box).
Beija-Flor will parade again along with this year's five other top ranking schools, Salgueiro, Grande Rio, Unidos da Tijuca, Portela, and Imperatriz, as part of the Champions Parade on Saturday, February 21st.