By Chesney Hearst, Contributing Reporter
RIO DE JANEIRO, BRAZIL – One of the most traditional samba schools, G.R.E.S. Portela will close the first of two nights of the Grupo Especial (Special Group) competition on Sunday, February 10, 2013. They will parade down the Sambódromo's Marquês de Sapucaí as the sixth school of the night.
No stranger to the contest, Portela holds the distinction of the oldest samba group – but not the oldest samba school – due to many name changes throughout the years.
Founded as a Carnival Bloco in the city's Zona Norte (North Zone) neighborhood of Oswaldo Cruz in 1926, they later moved to the nearby neighborhood of Maduiera. There they took on the name of street where their meetings were held, Rua Portela, and became G.R.E.S. (Grêmio Recreativo Escola de Samba) Portela.
This year the school will pay tribute to their home with the Enredo (Theme), "Madureira… onde o meu coração se deixou levar" which roughly translated means,"Madureira… where my heart takes me."
The Samba-Enredo (Samba Theme Song) celebrates the history of the Madureira neighborhood and the history of Carnival itself. Written by Monteiro, Luiz Carlos Máximo, André do Posto 7 and Toninho Nascimento, it weaves the love of fantasy into a brief retelling of movements, dances and events that lead the school to become what it is today.
One change to the school's parade this year is the replacement of actress Sheron Menezzes by Patrícia Nery as Portela's Rainha da Bateria (Queen of the Drums). Nery began her Carnival career as a muse to Portela for five years but before taking Menezzes' place served as Queen for the Renascer de Jacarepaguá samba school, the lowest scorers in last year's Special Group.
One thing that has remained constant with Portela throughout its history is perhaps the most recognizable element of the school, their emblem; an eagle with its wings spread wide. It was originally designed by Antônio Caetano, a co-founder of the school along with Paulo da Portela. Caetano is said to have chosen the eagle because it is "the bird that flies higher".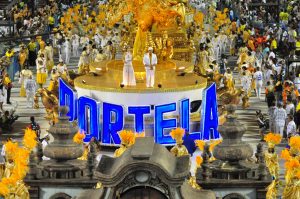 The soaring eagle has lead Portela to 21 Carnival victories, more than any other school to date. Portela has also been home to famous samba composers including; Candeia, Aldir Blanc, João Nogueira and Paulinho da Viola.
Additionally, famous celebrities including; Ricky Martin, Naomi Campbel and Quincy Jones, have appeared on the school's floats during previous parades.
However, Portela has seen its fair share of setbacks. Earlier this year in February a tragic incident occurred during one of the school's rehearsals. A speeding car crashed into a group of people and was followed by a bomb explosion 15 minutes later. One person was killed and 41 others were injured.
In 2011, Portela saw fires rage through three Barracões (Carnival industrial workshops)in the Cidade do Samba (Samba City), one of which housed the school's Carnival preparations for that year. More than three thousand costumes, many floats and other props were incinerated only a month before they were scheduled to compete.
Despite their successful history and comebacks after tragedies, the school has not seen a Carnival victory since 1984. They came closest in 1995, taking Vice-Champion. With little under six weeks to go until this year's Carnival, Portela is hard at work in the hopes of regaining their former glory.
Rehearsals are taking place twice weekly, beginning on Wednesdays at 8PM and Fridays at 9PM, at the school's Quadra (Rehearsal Hall). To find out more information, see the school's website.
G.R.E.S. Portela
Head Quarter: Samba City (Quarter number 03)
60 Rua Rivadávia Correa – Gamboa
Phone: (21) 2233-4812