By Fiona Hurrell, Senior Contributing Reporter
RIO DE JANEIRO, BRAZIL – Brazilian Rock legend Raul Seixas first found fame in the 1960s with his debut album Raulzito e Os Panteras. Known by his fans as the father of Brazilian Rock, Seixas enjoyed a career of dizzying heights. Sadly, however, poor health blighted the talented musician who died from pancreatitis at the age of 44 years old.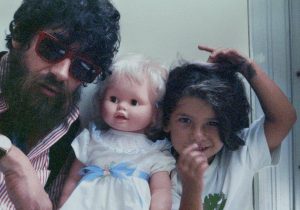 Loosing her father when she was just a child, Raul's youngest daughter Vivi later went on to follow in her father's footsteps, carving her own career in the music industry as a prominent dance music DJ.
In October of this year, Vivi Seixas, together with her husband and fellow DJ Mike Frugaletti from the U.S., will release an album compiling some of her fathers most legendary and revered hits, remixed with blues, hip hop, rock and electronic dance music.
The album's title 'Geração da Luz' (Generation of Light) is based on the name of a song from Raul's album Metro Linha 743. The lyrics of the song explain how the singer is metaphorically passing the torch on to the next generation, a notion that applies to the spirit of the album as a way of introducing his music to a younger audience.
Speaking of the album that has been close to the hearts of both Vivi and her husband Mike Frugaletti, the couple were relieved by the positive reviews they have received so far.
Frugaletti, nevertheless, explains the difficulty they faced in creating music that would appeal to a younger audience while at the same time respect Raul's faithful followers. He explains "its a very sensitive thing because Raul's fans are very die hard and loyal and to change his music is very risky. We updated the tunes, rhythms and beats, while still preserving his lyrics and message."
Naturally, producing the album has meant a lot to Vivi who admits, "With so much material to work with and hearing the vocals it was as though he [Raul Seixas] was in the next room, I felt very close to him."
Frugaletti was equally proud to be part of the project, since it provided an opportunity to explore the music of his Wife's Father who he was unable to meet. He explains, "For me it was great opportunity to learn more about my father-in-law and his music. Not only did I get to hear a handful of new tunes, but was able to get the background story on his thinking and creativity."
Talking about the creation of the music frugaletti says, "We were able to identify a new style for each track that would fit tonally and rhythmically. For example "Rock das Aranha" is a very upbeat track, and after listening a few times, we realized it would work perfectly as a drum and bass track."
Already an unquestionably talented music producer, Vivi is in no doubt of where she gets her talent, noting, "One of the things I inherited from my Father was a love and appreciation of music," something that has helped her to create an album that her father would be proud of.
She adds, "It was a very emotional experience but at the same time I was extremely happy and proud to be making this album. His lyrics are beautiful and, I think, still very current in that what he said back then, still applies today."
The album, featuring eleven tracks including a few unreleased versions of Raul Seixas' hits and even one, Vovó Já Dizia, that was censored on its original release, can be purchased from all major record stores as of the end of October.