By Chesney Hearst, Contributing Reporter
RIO DE JANEIRO, BRAZIL – On Tuesday, February 5th, Grizzly Bear will bring their experimental and at times genre defying sounds to Lapa's Circo Voador, marking their first performance in Rio de Janeiro. The Brooklyn, NY-based band is currently touring in support of their fourth full length album "Shields".
Grizzly Bear will play first at São Paulo's Cine Joia on Sunday, February 3rd, and then on the following Tuesday in Rio. The Circo Voador performance will occur, thanks in part to a growing Brazilian fanbase.
"A few months ago [Grizzly Bear] announced a show in South America mentioning their disappointment about not coming to Brazil, and quickly many replies and protests were sent to their Twitter and Facebook profiles from fans eager to see them live here (myself included)," an ardent Brazilian fan, Kátia Lopes, told The Rio Times.
Their efforts proved successful and the band eventually connected with Queremos, a Rio crowdfunded kickstarter, that helps musicians, agents and fans work together to book shows at neglected venues.
Founded in the early 2000s by musician and vocalist, Edward (Ed) Droste, Grizzly Bear's first full length album, "Horn of Plenty", was mostly a solo project produced by Droste in 2004.
Daniel Rossen (vocals, guitar), Chris Taylor (bass, various instruments) and Christopher Bear later officially joined Droste and together the quartet released "Yellow House" in 2006.
Grizzly Bear continued to grow and gain recognition worldwide. Their songs have been covered by fellow musicans including São Paulo natives, Cansei de Ser Sexy (CSS) and Americans, Band of Horses. They also collaborated with other artists including The Dirty Protectors and Canadian singer-songwriter, Leslie Feist.
Over time Grizzly Bear became more collaborative within the band itself, the four musicians interchanging the roles of songwriter and vocalist. Together they began to gain recognition for their vocal harmonizes and layered and textured song structures.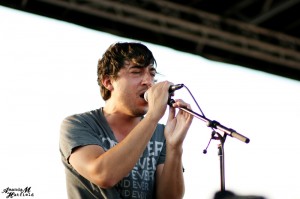 "Nobody makes music quite like this: beautiful tunes created from guitar virtuosity, unusual time signatures, post-punk angles, pastoral prog rock…, " wrote The Guardian's Dave Simpson in his review of the band's live performance at London's Brixton Academy.
2009 saw the band release of "Veckatimest", the thrid full lenght album. Featuring the catchy single "Two Weeks", it was well received as a more accessilbe mainstream release.
In September of last year, Shields was released, with Pitchfork calling it the band's "most compositionally adventurous record."
The album debuted at number seven on U.S. Billboard top 200 chart, the band's highest position to date.
"Grizzly Bear is not one of these alternative overhyped bands that come up every year," explained Kátia Lopes. "They've been consistently releasing great songs for a decade now and I feel like, at least here in Brazil, they are one of those bands that slowly gets to the point where they have a decent fanbase who is really passionate about their music – the best kind of bands, in my opinion."
Tickets for the Circo Voador show are still available at doors will open at 10PM.
What: Grizzly Bear
Where: Circo Voador – Rua dos Arcos, S/N, Lapa
When: February, 5th 10PM
Tickets: R$99-R$198 available at ingresso.com.br