By Jay Forte, Contributing Reporter
RIO DE JANEIRO, BRAZIL – The Gringo Café in Ipanema started the Gringo Group Therapy Happy Hour event in early 2011, and since September has been partnering with different groups in the Rio foreign community to host the monthly event. This weekend, Friday, January 6th, it is with the Casa do Caminho Language Center, and the focus will be "how to sound like a Carioca" with teachers on hand to cover some local slang along with half-priced drinks.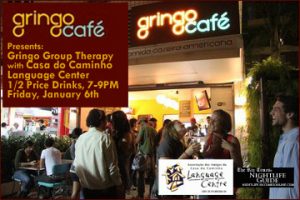 Jascha Lewkowitz, who is the managing director of the school, explains why this topic was chosen as the theme for the Happy Hour.
"[Foreigners] want to communicate well with Brazilians. There are different reasons – work, living/studying, fun, travel – [but it is] always good to know more about the language and especially if to use words that normal Cariocas use. Brazilians love it if you know some 'slang'." he says.
Sam Flowers, an American expatriate and owner of the Gringo Café understands this perhaps as well as anyone. Since opening he has worked to make the American Diner-style local a place for foreigners to come and connect with others as they acclimate into Brazil.
Regarding the Happy Hour topic for this month, Flowers explains: "the majority of our foreign customers work to learn Portuguese and they all talk about how much they want to be able to communicate better."
The Gringo Group Therapy concept has always been a laid-back atmosphere "Where people gather together to get inspired, share ideas, tips and advice about pursuing our dreams and aspirations in the Cidade Maravilhosa."
This month's partnership with Casa do Caminho seems like an ideal match to Flowers, who said: "The location is ideal, the vibe is great and the value is truly one of the best for studying Portuguese."
The Casa do Caminho Language Center was launched in March 2009, and conceived as a means of providing an income for its sister organization, Casa do Caminho Child Centres, an NGO which provides shelter and education to impoverished children and teenagers in the district of Xerém, in Rio de Janeiro state.
Jascha Lewkowitz describes: "Normally we have more or less seventy students in a week… [We offer] group courses every two weeks in three levels (beginner, intermediate, advanced). In general we have six group courses going on in the morning and in the afternoon, and evening we have (semi) private classes."
Lewkowitz also explains they are known for throwing a party or two. "We have organized different social events [like our] Bate-Papo, Welcome Party, Christmas party, Pancakes and Beers."
With the school's student body, half-priced drinks from 7PM to 9PM and the topical Happy Hour focus of picking up some Carioca slang to grease the social wheels in Rio, the event is expecting a big turn-out.
Flowers is excited, and adds, "This will be the first Group Therapy for 2012 and the first of summer and we've added a few drinks to the menu to help beat the heat."
"The Caipi Gringo is like a caipirinha but with American inspired ingredients – we crush lemon with sugar, instead of lime and add whiskey instead of cachaça. Another favorite already is the Grasshopper Milkshake – it's a mint flavored Milkshake with Crème de Menthe and Crème de Cocoa."
Find out more about the Gringo Group Therapy Happy Hour on Facebook.
Gringo Café
Friday, January 6th, 7-9PM
Rua Barão Da Torre 240
Ipanema, Rio de Janeiro
Tel: 21-3813-3972