By Ana Gabriela Ribeiro, Contributing Reporter
RIO DE JANEIRO, BRAZIL – There are many ways to enjoy the infamous Carnival blocos of Rio, and experienced revelers have been kind enough to offer inside tips for the rookies, experiencing Carnival in the in Cidade Maravilhosa for the first time. From drinking to going to pre-parties, the veterans agree that vitality and comfort are two of the most important ingredients for an enjoyable bloco.
This year, approximately 425 Carnival blocos grace the streets of Rio, the earliest one will start at a leisurely 8AM.
"The most important thing is to really prepare oneself. For instance, for a bloco that starts in the morning, one should drink lots of energetic drinks and water," jokes 28-year-old psychotherapist Thereza Bragança.
"Also one should give preference to tennis-shoes, or any comfortable shoe. Eat light, and bring or buy a hat and sunglasses, especially if you want to participate in more than one per day," Bragança continues.
The 32-year-old Joao Magno, whose friends nicknamed him "The king of Rio," managed to go to five Carnival street blocos on the same day one year. "That was my peak in 2007. Today I am going to my tenth street Carnival."
To achieve a level like this, it is important to be with people on the same wave-length, and to learn how to prioritize. According to Magno, it is easier to jump around from bloco to bloco in the same area of the city.
"In 2007, I used to go to Céu na Terra (Heaven on Earth) in Santa Tereza at 6AM, one of my favorite Carnival blocos, because people would really dress up in Carnival costumes. After, we would walk until Gloria, very drunk hoping to find a taxi to go to the next bloco close by, that would be in Botafogo. Normally around 2PM, I would have done two blocos," he says.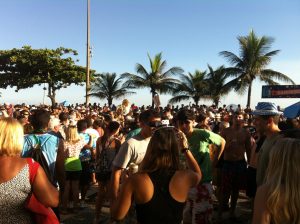 "I was so active, that I used to carry around a small time-schedule and would take it out during a bloco parade, and people would be very impressed. Today, I will only choose those on the beach, because it is less hot than those in Centro, and I can jump around more freely from one to the other."
For Magno, as for many Brazilians, it is preferable to be single while going to as many blocos possible. "Guys try to kiss girls all the time. Once I saw some gringos (foreigners) that were amazed by all the kissing that was going on."
"The gringos were also amazed by the people peeing on coconuts trees and public spaces and by police arresting revelers for indecent assault. Today, there are more banheiros quimicos (public toilets) and surveillance, though kissing is still part of our culture," he laughs.
Magno's last advice to revelers is to try to find the bloco per-parties which are mentioned on Carnival blogs. These take place in venues on Sunday afternoons usually, and for a certain entrance fee, visitors get a bloco t-shirt and start getting familiar with the songs.
The 25-year-old Claire Mckeeg from UK has been living in Rio for three months and is planning a bloco street carnival with locals. "It is a good party atmosphere, lots of fun, lots of interesting costumes, and for me, what is exceptional is that we see all ages and all the community involved. But, I still don't know if I will be able to go on three blocos a day," she mumbles.
As for 30-year-old New Yorker Rama Bondada, an entrepreneur, he believes that "With the right alcohol endurance," he might be able to pull it off.