By Chesney Hearst, Contributing Reporter
RIO DE JANEIRO, BRAZIL – While Lollapooza takes over São Paulo's Jockey Club from March 29th – 31st, four bands from the music festival will make their way to Rio. Hot Chip, Two Door Cinema Club, Passion Pit and Alabama Shakes, will play Lapa's Circo Voador stage on March 28th, 29th, 30th and April 1st respectively as part of the Lollapalooza self named "Side Shows".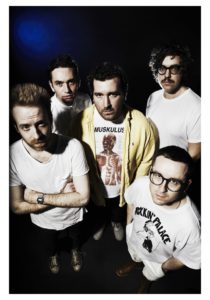 With over sixty bands playing the Lollapalooza festvial in SP, deciding the bands that would play in Rio was difficult. "When choosing the bands we took into account a number of factors," Leo Ganem, president of Geo Eventos, Brazilian organizers of Lollapalooza, told The Rio Times.
"[Factors such as] those that want to play, you have the schedule the show, weigh cost benefit and they will not compete with our own festival (one of the headliners would not do, for example). From this puzzle we formed the schedule that you know," Ganem explains.
Each band selected will headline their own night in Rio. British electronic musicians Hot Chip will play first on Thursday, March 28th with electronic musicians Tigre Dente de Sabre as their opening act.
Founded in 2000 in London and with five studio album releases to date, Hot Chip is known for the quirky electro-pop synthesizer driven rhythms and for their humorous nerdy persona. In 2009 they earned a Grammy nomination for Best Dance Recording for their track "Ready for the Floor" from their 2008 album Made in the Dark.
Their most recent album, 2012's In Our Heads, was so well received that they extended their tour for the album last year and also released a double disc expanded edition of the record, featuring remixes and bonus tracks.
On the second night, Friday, March 29th, Irish indie rockers Two Door Cinema Club will headline with opening act Brazilian musician and composer, Mahmundi. This will be the third time for Two Door Cinema Club, consisting of Sam Halliday, Alex Trimble and Kevin Baird, on the Circo Voador stage.
The band released their first full-length album, Tourist History, almost four years ago in July 2009. Including the singles "Something Good Can Work" and "What You Know", the band became known for their short and infectious indie pop songs.
In 2012, their sophomore album, Beacon, debuted at number one on the Irish Albums Chart and at at number two on the UK Albums Chart.
American electro-indie-pop rockers Passion Pit, will take the stage on Saturday, March 30th with opening act, Brazilian band Tipo Uisque.
Passion Pit began in 2008 when lead singer Michael Angelakos recorded an EP as a Valentine's Day present for his then girlfriend. The EP, entitled Chunk of Change, took longer than expected and became a belated present but with its inclusion of the song "Sleepyhead", gained the attention and praise of critics for the band.
In 2009 Passion Pit released their first full-length album, Manners with Angelakos sometimes employing a falsetto over unconventional electronic pop melodies.
Their 2012 sophomore release Gossamer, was met with high praise, making several best albums of 2012 lists.
Closing the Lollapalooza Side Shows will be Alabama Shakes on Monday, April 1st. Hailing from the small town of Athens, Alabama, the band formed in 2009 with Brittany Howard as their lead singer.
The young group with only one full-length album release, Boys & Girls, has received massive critical success for their blues infused indie rock sound. They were nominated for three Grammy Awards in 2013 for Best New Artist, Best Rock Performance for their single "Hold On", and Best Recording Package for Boys & Girls.
What: Lollapalooza 2013 Rio Side Shows
Dates: March 28th, March 29th, March 30th, April 1st
Times: Doors open from 10PM
Venue: Circo Voador – Rua dos Arcos, S/N, Lapa
Tickets: For each night are R$154,00 (full price) R$77 (students and promotion) available at ingresso.com