By Jay Forte, Contributing Reporter
RIO DE JANEIRO, BRAZIL – The Sunk Punk Shakespeare performance by London's salon:collective theater group wrapped their second show at the British Olympic House at Parque Lage, located in the Rio de Janeiro neighborhood of Jardim Botânico last night. The group brought their Shakespeare-inspired sonnets and contemporary spoken word, accompanied by punk anthems on an authentic 1980s cassette player to the crowd at the official Team GB venue.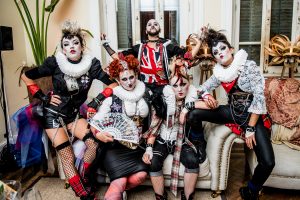 The performance group came to the British Olympic House on August 14th and 18th from London where the salon:collective creates theatre, trains actors and develops writers. The Sunk Punk Shakespeare show is all about celebrating 400 years since Shakespeare's death-day plus forty years of punk rock, and "letting Will's inner Johnny Rotten out to play."
The cast is made up of, Dajana Trtanj, Sophie Williams, Laura Steel and Dane Lukic, who all perform regularly at Morning Gloryville, a morning (sober) rave show. They are joined for Sunk Punk Shakespeare by Brazil-based salon actor/performer Priscila De Lima, and also performing 'Tube to Rio' in the afternoons at the British House.
Press contact Dajana Trtanj described how the performance group has found Rio de Janeiro, "We LOVE Rio, its so vibrant, fun and full of amazing people and spots. Priscila Lima who is one of the cast is Brazilian, she worked with our company the salon:collective in London so when we were coming here we thought it would be great to collaborate with her and to establish the bridge between London and Rio acting scene."
In terms of Rio's Parque Lage as a venue, Trtanj added, "It's an honor to perform at Parque Lage. It is such a stunning building and has a great artistic value and contributions to Brazilian art. Nature around is beautiful and every time we see Christ the Redeemer above, looking over us we do feel special."
The temporary Olympic British House is the official home of all things British at the Rio 2016 Olympic Games, the venue is set to 'celebrate the sporting achievements of Team GB along with the expertise, creativity and dynamism of the UK and its capital, London'.