By Amy Skalmusky, Senior Contributing Reporter
RIO DE JANEIRO, BRAZIL – The work of Dutch graphic artist MC Escher, considered to be the master of optical illusion, will be on display at the Centro Cultural Banco do Brasil (CCBB), Bank of Brazil Cultural Center, from January 18th to March 27th.
Escher's works are some of the most reproduced on the planet, present in college dorm rooms, on ties and shirts, and even in the late designer Alexander McQueen's 2009 fall collection.
"The Magical World of Escher", the largest exhibit of the artist's work in the world, brings 95 original prints, drawings and installations from their home in the Haags Gemeentemuseum in The Hague, the Netherlands.
It took curator Pieter Tjabbes, a native of the Netherlands now living in São Paulo, five years to convince the museum to allow Escher's work to travel.
"There are only three collections in the world. The pictures are very fragile and the paper is damaged by exposition to light. After this show, the museum will not be able to display them for four years," said Tjabbes.
The exhibition includes ten interactive installations where visitors try to "discover" Escher's optical tricks. A documentary of the artist gives an in depth look into Escher's life and work and a 3D animation takes visitors on a virtual "flight" over the landscape of the artist's images.
Escher's media was primarily lithographs and woodcuts. Though not trained as a mathematician, he portrayed precise mathematical relationships among shapes, figures and space that resulted in fantastic images that challenged viewers perception of perspective, dimension, and reality.
Only later in his life would he self-study complex mathematical concepts, such as hyperbolic tessellations and symmetry groups, and incorporate them into his work.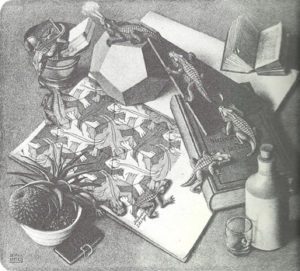 Escher's path to art was not direct. Encouraged by his father, he began studying architecture at the School of Architecture and Decorative Arts in 1919 in the Netherlands. However, his professors soon discovered that his skills were better applied to decorative arts, and he quickly changed his studies.
In 1922, Escher had finished school and moved to Italy. He traveled throughout Italy and Spain, taking in the Italian countryside and the Moorish architecture in the south of Spain.
He met his wife, Jetta, in Italy and they married in 1924. The couple stayed in Italy until 1935, when the political climate under Mussolini became unbearable and they relocated to Switzerland.
Decidedly unhappy in Switzerland, the couple, then with a young son, returned to the Netherlands where Escher would spend the rest of his life.
By the 1950s, Escher had received international recognition. He had been featured in both Time and Life Magazine, and was knighted by the King of the Netherlands in 1955. During the 1960s, his popularity continued to increase as he was embraced by the Hippie generation, with its love of psychedelic art.
Escher's timeless work continues to fascinate the masses. "His work is fun, instructive and beautiful," said Tjabbes. "It can be appreciated by someone without any art history knowledge as much as by an expert."
Place: Centro Cultural Banco do Brasil (CCBB), Bank of Brazil Cultural Center, Rua Primeiro de Março, 66 – Centro
Price: Free
Date: January 18th through March 27th.
Time: Tuesday through Sunday, from 9AM to 9PM.
Guided visits available. Appointments can be made from Monday to Friday, 9AM to 6PM by calling (21) 3808-2070 or 3808-2254
Additional Events: Free Lecture on the life and works of MC Escher by curator Pieter Tjabbes on March 1st at 7PM