By Nathan M. Walters, Contributing Reporter
RIO DE JANEIRO, BRAZIL – The best Wednesday (hump-day) treatment for many is to find a chill place to enjoy some drinks, some food, some music, and meet up with some like-minded locals. Something comfortable but a bit different from your favorite bairro chopperia, without committing to an all-nighter, necessarily.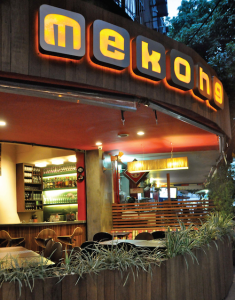 In the heart of Leblon's restaurant row, Asian-inspired Mekong opened in August 2010, and since 2011 has been offering a oasis to those afflicted by the mid-week blues. Since kicking off the weekly event, the restaurant has become the place of pilgrimage for Wednesdays' in-the-know and out-on-the-town crowd.
With happy hour specials (three for two Bohemias, or Caipirinha/Caipikong buy one get one free) from 6PM to 8PM and DJs spinning from 7:30 PM to midnight, it is the place to be in Rio.
Englishman Mary Byker and Carioca Ana Vance, husband and wife owners of Mekong, have combined their musical savvy and talents in cocktail alchemy to create an atmosphere that is diverse and welcoming. This weekly tradition continues, with a few new additions to lure the curious to Leblon.
"On Wednesdays we focus on a low-key jazzy lounge atmosphere, but, since we have a rotation of DJs from the U.S., UK, and Brazil (notably DJ André Amaral), you never know what's going to happen," mentions Byker, "Though you can be sure it will always be cool."
Jarras, the newest addition to Mekong's already impressive cocktail list (including the bar's self-crafted infused dark rum and sake), are the perfect cure to all your hump day ills. Served in a one liter serving (at around R$39) the drinks can be a nice break from caiparinhas.
Creative concoctions, such as the "Summer Breeze" – sparkling wine, triple sec, cucumber, oranges, limes, mint and basil, or the "Ping Pong" – vodka, strawberry liqueur, strawberries, orange juice, lime juice, passion-fruit, are served in a perfect size for a group of friends (or on your own).
Mekong maintains its position as must stop for Rio-based music lovers. Byker, a jewel in the UK's late eighties alternative rock scene (and still a touring musician, recently finishing a UK tour with Pop Will Eat Itself), has an eclectic music taste he occasionally brings to the tables.
"Sometimes I play with people we have visiting, sometimes not, just depends on the groove of the evening. We have a great rotation of DJs, some serious vinly-holics with really good taste."
The members of Rio's celebrated Botafogo Social Club regularly handle the decks at Mekong. This Wednesday (April 4th) regular guest DJ Tee Cardaci (originally from San Francisco) will be celebrating his birthday at Mekong.
Mekong is one of the few high-quality Asian-inspired eateries in Zona Sul (South Zone), which is a good reason to check it out any day of the week. But if Friday won't wait and you need to inject some good vibes into the week, head to Leblon to remember what the good life is all about.
Mekong 
Wednesdays starting at 6PM
Rua Gal. Urquiza, 188 a, Leblon 22431-040 RJ
Tel (21) 2529-2124