By Sarah Brown, Contributing Reporter
RIO DE JANEIRO, BRAZIL – When the Metrô (subway) begins its ticket sales for the famous party on Copacabana beach, it's quasi-official confirmation that New Year's Eve is just around the corner. On Monday, December 12th, tickets will be sold for the special event and are essential to use the metro between certain hours on New Year's Eve and New Year's Day.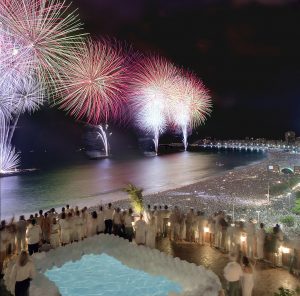 Metrô will put 150,000 tickets in eight stations that have to be bought in person, paid with cash only and are available in these eight stations until December 24th. The stations are Pavuna, Uruguai, Central, Carioca, Gloria, Siqueira Campos, Jardim de Alah and Jardim Oceanico.
Ticket sales will be open in all eight stations between 10AM and 9PM. From December 25th, tickets will only be availble in Pavuna, Carioca, Central, Gloria, Uruguai and Jardim Oceanico.
To go, users will need to choose between five time slots from 7PM until 12AM and will have to purchase the corresponding ticket for that period. To return, the ticket allows travel without a fixed time frame between 12AM and 5AM. Metrô officials recommend to buy tickets in advance and to use Siqueira Campos station to go and leave the party in Copacabana.
The ticket to go and return costs R$8.20 while a one way is R$4.10, the usual price of a ticket. Any user can buy up to ten tickets at a time. These special New Year tickets are essential to travel on the metro during the New Year as on December 31st, from 7PM, most metro stations will accept neither cartões unitário, pré-pago nor RioCard, nor Bilhete Único and Vale-Transporte.
The only stations that will accept these cards are General Osório, Cantagalo, and Siqueira Campos. The usual metro cards will start operating as usual at 7AM on January 1st.
Certain groups will be able to use the metro for free during New Year. People with disabilities, children under the age of six years old and seniors over 65 years old will be allowed to enter the metro for free providing they present documents to the metro officials.
Transfers between Line 1 and Line 2 will be at Botafogo and Central on December 31st. From 7PM, Line 2 will operate from Pavuna to General Osório without needing to transfer. It will still be necessary to make a transfer at General Osório on Line 4.
Metrô Cardeal Arcoverde will be closed from 7PM and all ticket booths at the stations will be closed expect at General Osorio, Cantagalo and Siqueira Campos. To return from the New Year party, the metro will be open from midnight until 5AM at stations General Osório, Cantagalo, Siqueira Campos, Cardeal Arcoverde and Jardim Oceanico.
On January 1st, all the metros will return to usual hours of 7AM until 11PM, except for Cidade Nova, Presidente Vargas, Uruguaiana, and Catete, which will remain closed until 5AM on January 2nd.
The time slots are assigned to certain colors of cards. 7PM – 8PM requires the dark pink card to go and come back, or the light pink to go only. 8PM – 9PM requires the orange card to go and come back, or the yellow card to go only.
The 9PM – 10PM time-slot requires the dark blue card to go and come back, or the light blue card to go only. 10PM – 11PM requires the dark green card to go and come back, or the light green to go only.
The 11PM – 12AM period requires the purple card to go and come back, and the lilac card to go only. For a ticket between 12AM and 5AM, the allocated card is the silver card.