By Lisa Flueckiger, Contributing Reporter
RIO DE JANEIRO, BRAZIL – After the famous parades of Rio's best samba schools, the Carnival in the streets with several hundred different parties known as blocos is the next big attraction of the crazy season of the year. In 2015, even more tourists are expected to flock to the city, which is preparing for the influx.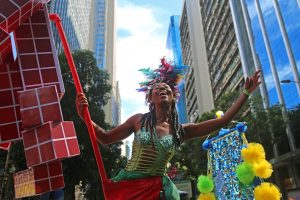 In 2014, five million people partied in the streets of Rio on the days of Carnival of which 918,000 were estimated to be tourists. This year Rio's tourism agency Riotur expects even more people with a forecast of 977,000 visitors. The financial turnover is expected to be at around US$782 million, which is more than R$2 billion and an increase of R$48 million compared to 2014.
The visitors will party in one of the estimated six hundred parades of the 455 blocos registered this year and take the streets of Rio between January 24th and February 22nd. Around 28 percent of the blocos will take place in Zona Sul (South Zone). The final list of registered blocos will be announced on Monday, January 12th.
With the increased participation, Riotur also plans to fight a common problem at Carnival: the search of a toilet. This year, 3,000 more mobile toilets than in 2014 will be installed throughout the city totaling at 24,525.
Those blocos that traditionally parade in Centro's Avenida Rio Branco, which is currently closed for the construction of the VLT, will have to adopt a new route down Rua Primeiro de Março (later named Avenida Presidente Antônio Carlos) in the direction of Avenida Beira Mar. Some of the biggest and most famous blocos such as Cordão da Bola Preta, Afroreggae, Monobloco and Bloco da Preta are affected by the shortened route.
"We have already defined that the parades will be in Antônio Carlos in the direction of Beira Mar and spilling into Rua Santa Luzia. We are still deciding some details, but the gathering place of the blocos will probably be Praça XV, "Antônio Pedro Figueira de Mello, special Secretary for Tourism in Rio, explained.
Furthermore, the system where vendors have to register and display their credentials during their work, which was introduced last year, will be kept for this year. Riotur registered 7,000 vendors, around 2,000 more than last year.
"In terms of organization, I can say that this is one of the biggest events in the world, with several organs working at the same time, year after year, to guarantee the comfort, safety for the participants and the creation of income. For 2015 we had the challenge to change the route of four of the biggest blocos of the city. But I believe everything will turn out well and Primeiro de Março is actually wider and will offer more comfort so the visitors can parade," Mr. Figueira de Mello added.