By Gregory Scruggs, Contributing Reporter
RIO DE JANEIRO, BRAZIL – With acoustic ink and musical face twitching, the 2011 edition of the Multiplicidade multimedia art festival kicked off on Thursday, June 30th at Oi Futuro Flamengo. Since 2005, one of the most original showcases of how music and technology can interact has been housed at the appropriately futuristic cultural center just off Largo do Machado.
Past performers have included contemporary Brazilian cultural talent like Carlinhos Brown, Tom Zé, and Vik Muniz, but this year the festival opened with two international artists, Zach Lieberman from the U.S. and Daito Manabe from Japan, who had just played at Sónar, the world-renowned international festival for music and multimedia art in Barcelona.
Reflecting on the excitement of having such high-profile acts for their Rio debuts, festival curator Batman Zavareze said, "This is a time to break paradigms in education, knowledge and artistic production. And I dare say the changes are arising from the technology as the avant-garde movement that created a new tradition."
Lieberman, who teaches at the Parsons School of Design in New York City, presented a new piece that involved a paintbrush, an inkwell, and a sheet of paper that mysteriously converted analog to digital. With a camera trained on the sheet of paper and projecting on a screen behind the artist, Lieberman dropped actual ink onto the paper, which then became a digital object that he could move around the screen to create different sound effects.
While the audience was rightly intrigued by how the ink on paper made such a transformation – an unexplained process that built up one's curiosity – the actual designs of simple dots, lines, and stick figures produced fairly rudimentary beeps and blips that some felt did not congeal as well as they could have, perhaps intentionally.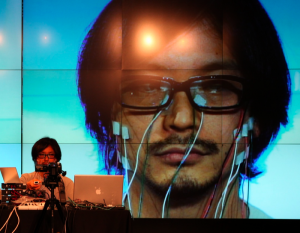 By contrast, the physically invested performance by Manabe took what could just be a neat parlor trick and turned it into a captivating, and rhythmically entertaining, acoustic experience. Manabe, co-founder of the 4nchor5 la6, is a top-notch programmer and researcher, whose talents were on full display in his innovative construction of electronic sensors that can transmit facial movements into pulses that trigger certain sounds.
With backing beats drawn from drum'n'bass, jungle, and breakcore, Manabe and a series of collaborators – generally in pairs – performed something of a live set through blinks, twitches, eyebrow furrows, and in one memorable moment, with flashing dentures.
The sheer gall to endure 18 volt shocks and the corporality of the performance, in addition to a bumping soundtrack that made you want to move in Oi Futuro's intimate (and pillow-strewn) auditorium, were definite highlights.
With deadpan humor between sets – due to high demand, a second show was added following the first, which was broadcast live in Oi Futuro's lobby – Lieberman explained, "Electricity comes from outer space, so we try and do some outer space things with it."
With more live multimedia art scheduled for July 28th, August 18th, September 29th, November 24th and 27th, and a week-long installation from October 27th to November 3rd, the curious will have ample opportunities to get a taste of Multiplicidade in all its wacky glory.
Multiplicidade is at Oi Futuro Flamengo, Rua Dois de Dezembro 63. Performances are R$15, half-price for students.