By Luiza Moscoso, Contributing Reporter
RIO DE JANEIRO – A film crew is allowed to penetrate the homes of celebrated artists like Chico Buarque, Adriana Calcanhoto, Arnaldo Antunes, Lenine, Maria Bethânia and Tom Zé, among others, to document an intimate discussion about the oral tradition in Brazilian culture and how popular music can open the gates to literature and poetry.
This is the idea behind "Palavra (En)Cantada" ("Enchanted Word", in a free translation), a documentary directed by Helena Solberg that has captivated audiences around the country since its premiere on March 13th, and is now starting its journey overseas. The film has been selected to close the Brazilian Film Festival in Paris, on May 12th, where Brazilian music is in the spotlight, as this edition will honor the 50th anniversary of Bossa Nova.
The film is based on interviews with musicians and poets from different backgrounds, but according to Solberg, it wasn't that hard to put this group of world class artists together: "The invitations were made in a very private way, as I already knew a lot of them and they were familiar with my work. In Brazil people have an amazing informality and availability that you can't find in any other country".
Besides the interviews, the backbone of "Palavra (En)Cantada" is also built around rare archive footage, like an interview with Caetano Veloso right after he performed his famous song "Alegria, Alegria" during a festival in 1967. There is also some footage never before seen on Brazilian screens, like Dorival Caymmi's performance of his song "O Mar".
This relationship between Brazilian popular music and poetry was not intended to be explored as a movie initially. In 2005, Márcio Debellian, creator and co-producer of "Palavra (En)Cantada", had the idea to produce pocket shows where each musician would discuss their relation with a book or an author of their choice. "I burned a demo DVD with some interviews and music I had at home and went for a meeting with Oi Futuro to try to get funding for the project", tells Márcio. But the material on the DVD was so interesting they suggested it should become a movie.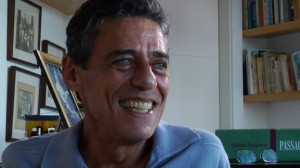 Debellian believes music is the art form that affects Brazilians the most and therefore it works as a connection between people and literature. "Brazil is a singing country, music is part of our identity. Think about fans of the band Legião Urbana: they would sing verses of Camões poetry thinking they were written by the band lead singer, Renato Russo! I like a part of the film when (writer/singer) Adriana Calcanhoto says she got to (poet) Fernando Pessoa through music, thanks to one of (singer) Maria Bethânia's records. The same thing has happened to me".
"Palavra (En)Cantada" is still running in Carioca theaters and will be available on DVD in August.