By Patricia Maresch, Senior Contributing Reporter
RIO DE JANEIRO, BRAZIL – They can sound a bit crazy (or eccentric) at times and their appearance is certainly unusual, with instruments glued on helmets, but it is a serious orchestra: Brazil's first orchestra on bicycles, the Cyclophonica Biking Orchestra. Members of this extraordinary orchestra use tubas made from drain pipes and mini-pianos strapped to handlebars while touring the city's cycle paths.
Cyclophonica's leader, Leonardo Fuks, says he wants to make classical music less elitist. "We want to take music to all possible places and unite musicians, cyclists and our audience from different countries in a creative and exciting environment."
Fuks, who is a oboist and professor of music and acoustics at the Universidade Federal Rio de Janeiro (Federal University UFRJ) conceived Cyclophonica some years ago while biking around Stockholm, Sweden. Fitting it in between his work at the Royal Institute of Technology, and his rehearsals and performances with the Nacka Symphony Orchestra.
"I was doing a doctorate, surrounded by instruments, sensors and measuring devices. Late one snowy afternoon, I wondered if it would be possible to control a musical instrument in motion," Fuks says. Upon returning to Brazil, Fuks created the orchestra with several of his professional musician friends: "We get to play music freely, without a conductor in front of us and just have a lot of fun."
One goal of the Bike Orchestra is to show that playing music can be as simple as riding a bike. Another is to awaken the interest in learning music. "We don't need a theater or concert hall to play. The beach, the streets or a square serve as a performing location for us. We usually have many people of all ages interested in our instruments, testing them and they end up walking around with our bikes," Fuks describes.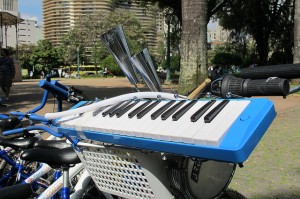 While looking for ways to expand their repertoire that varies from Brazilian bossa nova standards to Brahms, orchestra members also explore new tools and techniques. This has led to the creation of musical instruments that can be played with limited use of ones hands.
Fuks explains the progress of on such new design: "I'm currently adapting the traditional Chinese mouth organ Sheng, by using plastic tubes I can ride my bike and play the instrument simultaneously."
Besides showing that playing music can be fun, Cyclophonica also thinks they can play a part in advocating bike safety and promote bicycles as an alternative way of transportation. Riding a bike in Rio is not always without risk.
Fuks agrees that bike riding can be dangerous and deserves precaution: "The rules and basic concepts of cycling are unknown by most Cariocas. I believe that every child should have bike classes at school, as part of their physical education. I think this can prevent accidents and save lives."
Cyclophonica has performed over 100 times not only in Rio, but also in other Brazilian states, the United States and in Japan. They hope to make it to Belgium this year to perform at the Europalia 2011, a major international arts festival held every two years to celebrate one invited country's cultural heritage. This year: Brazil.
Visit the website of Cyclophonica Orquestra de Câmara de Bicicletas for more information.