By Chesney Hearst, Senior Contributing Reporter
RIO DE JANEIRO, BRAZIL – During Carnival in Rio de Janiero, parties known as blocos fill the city's streets with lively parades, music, dancing and colorful celebrations. With the city announcing there will be 505 Carnival blocos this year, almost fifty more than in 2015, there will be multiple opportunities for revelers to party in the streets and to check out several new and older blocos that introduce and blend newer genres with traditional samba and Brazilian rhythms.
Currently ongoing, the official bloco schedule began this year with Liga De Blocos E Bandas Da Zona Portuária (Liga dos Blocos in the Port Zone), on January 16th. Additionally performing during that first weekend on Saturday, January 17th was one of the new blocos, Tchotchomeri.
Mixing Miami Bass, charm, and 90s Carioca funk, Tchotchomeri brings a new kind of energy to the parades. "The idea came from the desire to hear this kind of music with a Brazilian touch, because we don't hear this kind of music during Carnvial," founder Virgílio Dias told G1.
Another bloco that will bring a new flavor to Carnival is Bloco das Poderosas. The bloco was formed by Brazilian pop singer-songwriter and funkeira (funk performer) Anitta, well known for her 2013 debut single "Show das Poderosas." The bloco is working to be officially approved by the city to parade, and while they wait for approval the group will perform at Monte Líbano on January 28th. The bloco's group for children, Bloco das Poderosinhas, will also perform at Monte Libano on February 9th.
Anitta follows the lead of fellow pop star and friend Preta Gil, who formed her own bloco, Bloco da Preta, in 2009. It quickly rose to become one of the most popular blocos in the city, drawing more than 300,000 people to its march during the 2015 Carnival, according to organizers. This year the bloco will parade on January 31st in Centro and is estimated to attract approximately 400,000 people.
Another new and highly-anticipated bloco, Exagerado, will honor the late Brazilian rock singer-songwriter Cazuza. Named after Cazuza's 1985 debut album, the bloco is expected to turn the singer's hits including "Vida louca vida", "O tempo não para" and "Pro dia nascer feliz", into lively samba marches as they parade on February 9th at the Arco do Teles in Centro.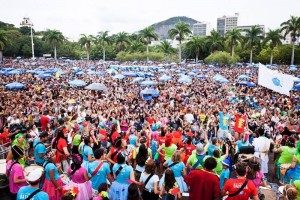 One bloco well known for blending familiar songs with Brazilian rhythms is Sargento Pimenta. The group mixes the best of The Beatles with samba, samba reggae, funk, maracatu, and marchina to create one of the liveliest parties during Carnival. This year, the bloco will parade again at Aterro do Flamengo on February 8th.
There is also the Bloco Thriller Elétrico, which is known for combining the best of Michael Jackson and pop with samba. They will perform this year at Barão de Drumond in Vila Isabel on February 7th. Additionally, the Mulheres De Chico, known for their samba versions of works by Brazilian singer-songwriter, guitarist and poet Chico Buarque, will parade on February 13th in Leme.
The blocos will continue through February 14th with almost twenty blocos performing to close out the 2016 Carnival festivities on that day. The parading blocos will include the Monobloco which is expected to draw 400,000 attendees to its parade in Centro.
Stay with The Rio Times for more about the ongoing bloco and upcoming Carnival celebrations. Additionally, for a complete list of all Rio Carnival 2016 blocos, see the wikirio page. It should be noted that the schedule can change. Additionally, sizes of the blocos vary widely and not all blocos are family-friendly or appropriate for children. Wearing tennis shoes or sneakers is advised, as is taking and drinking lots of water.