By Chesney Hearst, Senior Contributing Reporter
RIO DE JANEIRO, BRAZIL – The state welcomes two brand new events this weekend that are set to bring some seasonal German celebrations of beer and music, better known as Oktoberfest, to Rio for the first time this weekend. With artisanal brews more popular than ever and specialist beers increasingly common, their timing couldn't be better.
Shining the spotlight on specialist brews and their creators, Beer Experience will be serving up over 500 different imported and domestic beers at the Estação Leopoldina in Centro. The impressive Castelo de Itaipava in Petrópolis, meanwhile, goes a step further with its Imperial Oktoberfest party (October 5th, 5PM) where Bavarian culture is firmly on the menu, from food and drink to music and dancing.
It was in celebration of King Ludwig I's wedding to Therese of Bavaria that the original Oktoberfest celebrations erupted across Munich in 1810. Today one of the largest festivals in the world, the popularity of the 16-day party has helped spread the Oktoberfest concept around the world.
The castle-based entertainment comes from a host of musicians and DJs, including DJ João Brasil, Gigga What and Zeh Pretim. Casa do Alemão will supply the traditional foods for the event and, of course, barrels and barrels of beer.
The list of drafts available includes Bohemia Imperial, Stella Artois, Brahma Claro and Brahma Black and among the bottles on offer will be Leffe, Hoegaarden, Franziskaner, Corona, Patricia, Norteña, Beck's, Spaten and Serramalte, and hundreds of other lesser known brews.
Meanwhile in downtown Rio, Beer Experience will take place for the first time in the city at Estação Leopoldina, reflecting the growing interest in beer beyond the well-known staples like Skol, Brahma and Antartica. First held in São Paulo in 2011, the festival is recognition of the expanding brewing culture in Brazil.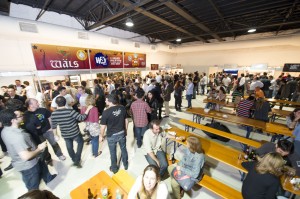 "The idea for ​Beer Experience came after the realization I had about the short supply of events to enjoy beer in the city of São Paulo," André Cancegliero, mastermind of Beer Experience told The Rio Times. "In 2011, I went to an event in Curitiba, a much smaller city, which already had an event for this sector. From there, I felt the need to create an event that met this need."
"Undoubtedly, [the beer market] is growing," said Cancegliero. "Five years ago, we did not have even half of the labels, breweries, events, importers, bars and professionals specialized in the market we have today."
It is a sentiment shared by Bernardo Couto of 2cabeças, a beer brewed in Brazil and distributed at specialist bar Botafogo's Beerjack HideOut and at other venues and bars.
"The beer market in Brazil is growing a lot," Couto told The Rio Times. "All the time we have more home-brewers, microbreweries opening and new ones coming to the market. The amount of bars that work with labels outside of AmBev is also growing. It is a market that is mirrored in the U.S., where craft beers reach almost ten percent of the total beer market, currently."
"These beers bet on creativity, quality. It's a different experience to consuming a mass product, which is made only to be cheap and make profit," said Couto. "Each beer has its own particularities".
"Rio de Janeiro is a very important city for the sector," continues Cancegliero. "Like São Paulo, until last year Rio was pretty lacking in brewer events. I hope that the hosting of Beer Experience in Rio will serve to accelerate the market in town."
What: ​Beer Experience
Where: Estação Leopoldina, Avenida Francisco Bicalho
When: Friday October 4th and Saturday October 5th
Entrance: Friday R$50, Saturday R$40, VIP R$150 (Ingresso Rápido)
Tickets entitle guests to a free mug and a Brooklyn chopp.
For more information visit the official website (beerexperience.com.br)
What: Imperial Oktoberfest
Where: Castelo de Itaipava, Petrópolis
When: Saturday October 5th 5PM through October 6th 5AM
Entrance: Free entry until 7PM with fancy dress, R$66-R$176 after. Transport from Lagoa also available (ingressocerto.com)
For more information about Oktoberfest visit the official Facebook page