By Jay Forte, Contributing Reporter
RIO DE JANEIRO, BRAZIL – To mark the Rio 2016 Olympic Games being just a week away, The Rio Times has partnered with the Blue Agave bar and restaurant in Ipanema to host a pre-Games party on Saturday, July 30th. The plan is to kick-off the Olympic season early and celebrate all the hard work and preparation so many have put into the mega-event, as well as welcome newcomers that are just arriving in the Cidade Maravilhosa.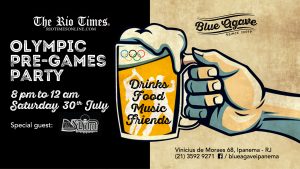 Stone Korshak, editor and publisher of The Rio Times explained, "We wanted to inaugurate this Olympic period with a very informal party, and hopefully set the mood for the month ahead. The Blue Agave was a natural choice because it is in Ipanema, and completely casual but American owned and run, so there is a sense of community there that I think a lot of travelers will appreciate. Plus,… we have DJ Slim."
A feature of the party will be Egypt-via-UK DJ Slim, the house DJ and favorite on the decks in Rio for the last couple of years, who recently announced his exodus from Brazil at the end of August. It will not be his last party as a DJ in Rio, but it marks the encore, and his fans won't want to miss it.
DJ Slim shared his thoughts on the upcoming party, "It's always exciting to play at Blue Agave, the smallish size allows for a special level of intimacy with the crowd, I feed off their energy, and once that energy cycle starts going, it's fireworks." Adding that after the Games and he leaves, "I will miss the place, and everybody in it."
As far as what to expect on Saturday, he says, "If last Saturday was the shape of things to come, I'm expecting this Saturday to be even bigger or in Olympics terms (faster stronger higher), there are more party people around because of the Games, and that is always great. Music-wise, there has been a more progressive tone to my Blue Agave nights, and that shall continue."
The Blue Agave Mexican bar and restaurant has been a local expat favorite since 2009 when they opened, and has been the host of several "gringo bloco" events during Carnival over the years. With a prime location in the heart of Ipanema, and open air front, it lends itself to large street parties with a friendly sense of community.
Managing partner and American expatriate, Alex Barwinski, is excited for the Olympic season and eager to establish the Blue Agave as a central point for some of the 500,000 foreign tourists expected to be in the city for the Games. "The Blue Agave will be showing all Olympic TV coverage live, as well as hosting different events, we want everyone to know this will be a safe, friendly, helpful – and fun place to be all month."
The Blue Agave menu includes Mexican/Tex-Mex favorites like burritos, tacos and nachos, as well as a range of tequilas and Budweiser and local favorite Bohemia in the bottle. The event has no entrance fee, and stay updated on new announcements and promotions by joining the Facebook Event page.
What: The Rio Times Olympic Pre-Games Party
When: Saturday, July 30th, 8PM
Where: Blue Agave, Rua Vinicius de Morais 68, Ipanema, RJ
Entrance: FREE