By Melissa Rossi, Contributing Reporter
RIO DE JANEIRO, BRAZIL – Home to breathtaking views of lush-green mountain peaks, the city of Petrópolis is widely known for its historical significance as the former summer residence of Brazil's imperial family. Yet, although this splendid mountainous city derives part of its heritage from Brazil's 19th century monarchy, the German immigrants hired to lay down its foundations are an integral part of its history.
Every winter, their traditions are summoned to life once again in the city's Bauernfest, animated by the folkloric songs, dances and typical dishes that fill the chilly evening air with the nostalgic sounds, smells and tastes of the distant Rhineland.
This year's Bauernfest, will take place from June 28th to July 8th at the Crystal Palace and surroundings. The location holds a historical meaning since the Praça da Confluência (Confluence Square) adjacent to the Palace, was a former meeting point for German families who gathered over the weekends to share their experiences.
Besides indulging at the traditional food stands, watching folkloric group presentations and even a parade in the city center, those interested in learning more about the trials and tribulations of the first settlers can join a free three-hour hike on July 1st at 8AM along the same steep path of the Serra da Estrela (Star Mountain Range) that was built by the intrepid pioneers.
The winter event is an ideal weekend get-away for those planning to escape from Rio's hectic routine or for locals who wish to reconnect to their own heritage. Márcia Grotz, a resident of Petrópolis, explains how she feels "deeply connected" to her ancestral roots, always participating actively in the festival together with her "family members every year."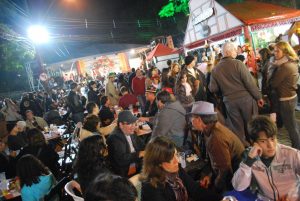 In fact, for many Petropolitans like Grotz, the festival brings back personal memories of cherished relatives long-gone. Grotz warmly recalls how her grandfather, a son of German immigrants, used to always "make a toast in German at the family table" even though she "did not understand a word of what he was saying" when she was a young girl.
Following in the Bauernfest's steps, the 12th Edition of the Petrópolis Winter Festival runs from July 6th to July 15th and will feature an array of cultural presentations including jazz, classical music, Música Popular Brasileira (MPB, Brazilian Pop Music), ballet, theater, film screenings and conferences.
The festival's grand opening scheduled at St. Peter of Alcantara's Cathedral will bring together the gifted German organist Christian Schmitt and the Canarinhos' Coral of Petrópolis in a concert that promises to cover major classical masterpieces by Brahms, Bach, Liszt and beyond. For the complete event schedule, go to http://www.dellarte.com.br/mostra
For those not planning to get there by car from Rio, Unica bus lines runs every half an hour daily until 11:30PM from the Novo Rio Terminal to Petrópolis' main bus station and costs R$18 (one-way ticket).