By Jay Forte, Contributing Reporter
RIO DE JANEIRO, BRAZIL – With just a month to go before the opening of the Rio 2016 Olympic Games, an exhibition on display in the Biblioteca Parque Estadual (Library State Park) portrays a look at the impact of the mega sports event on the homeless of Rio. The photo exhibit is an initiative of Agência Emaús, a social project of Banco da Providência that promotes social reintegration of homeless males.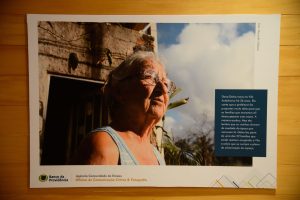 The 37 photo images that make the show "Um Novo Olhar Sobre as Olimpíadas" (A New Look at the Olympics) profile the photography of seventeen men, aged between 18 and 50 years, who participated in the project in April and May this year.
Marcelle Gebara, who is responsible for the workshops at Agência Emaús, praised the commitment of the students and the result of the initiative. "As a teacher of this project, I thank everyone who is allowed to create an emotional bond with photography and with people through photography," she said.
To carry out the photography work, the course participants had two areas of focus, guided by educator and psychologist Ms. Gebara. The first was the Avenida Brazil, to portray the dislocation of the express BRT bus lane caused residents of the city, and the other of Vila Autódromo, a favela community near the Olympic Park which was almost entirely removed by the Rio city hall.
"This is a historic moment for Brazil and the Rio de Janeiro and we want to show the indifference, removals and endless works. It is our point of view. Already we feel the skin the neglect of the government. I hope you all can reflect from the photos," said one of the project participants Ivan Charles Mendonça.
What: Um Novo Olhar Sobre as Olimpíadas (A New Look at the Olympics)
When: Until August 15th, Tuesday to Saturday from 11AM to 7PM
Where: Biblioteca Parque Estadual, Avenida Presidente Vargas, 1261 – Centro, RJ
Entrance: FREE