By Tim Anderson, Contributing Reporter
RIO DE JANEIRO, BRAZIL – The Cidade Maravilhosa is full of places to get a cold beer, and it doesn't take long to find locals enjoying each other's company at the countless botecos (street bars) in the city. For a proper night out though, many expats and tourist alike crave a bar with a little more familiar ambiance.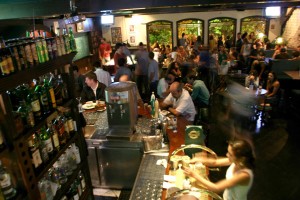 The bar scene in Rio, like anywhere has its old faithfuls, its fads, and its failures. As Carnival arrives and the summer is at peak form, a survey of the city's current best bars is in order.
The list naturally starts with an Irish bar, and Shenanigan's in Ipanema is at the top, with a wide range of beer (including Guinness) as well as a pool table, lots of TV's for watching sports, and live music seven nights a week. Shenanigan's claims "there are no strangers here, only friends who haven't met" and with tourists and locals mixing cocktails and languages, there is always a lively atmosphere.
Another Irish themed bar is the Lapa Irish Pub, which is relatively new in Lapa and also offers a wide variety of beer and live music, but in a much different location. Lapa is mostly known for it's amazing Samba and wild Friday night street party, and so this friendly bar is a nice change of pace.
Back in Ipanema, Blue Agave is another popular bar with expats, tourists and locals, and probably the best range of tequila in Rio. It serves authentic 'Pacific Mexican' dishes and is the perfect place to pop in for an easy bite and cold beer.
"At the moment my favorite is Blue Agave" Ivy, a Carioca (from Rio) says, "because of the friendly service and friendly people that go there… also good music, good food and good caipirinhas!"
In a city with such a dramatic skyline, it is appropriate that Bar Urca makes the list, located at the base of Pão de Açúcar (Sugarloaf), the view from Urca across the water is worth a visit on its own. Dani an architect in Rio says that it's her favorite place, "I love Bar Urca for sunset!"
At the top of the list in hillside Santa Teresa is Bar do Mineiro, an old school bar from the middle of last century with tiled walls and the tranquil atmosphere perfect for the visitors chatting themselves into a hazy evening. Carioca photographer Pedro says it has, "A perfect caipirinha, and the bar also serves a hit of ginger, apparently an aphrodisiac."
Not to be left out, on the beachfront of Copacabana, Balcony bar has fostered a reputation for entertaining visitors from all over the world. It provides excellent service and enough room to enjoy an intimate conversation with a large open seating area. They offer live music and late night it seems to have picked up some of the crowd from the recently closed Club Help.
With a history and culture like Rio, finding the best bars can be an enjoyable challenge that deserves serious attention from every true adventurer. This summer, even after the Carnival drums quiet, these best bars in Rio are sure to entertain.