By Felicia Bryson, Contributing Reporter
RIO DE JANEIRO, BRAZIL – Blocos are the street parades that take place in all of Rio's neighborhoods and commence as early as January, continuing all the way past the official Carnival dates (March 4th – 8th). The holiday in Rio is mainly known as the weekend at the Sambódromo, but the Carnival tradition actually began with the street parades that were first introduced by the Portuguese in the Eighteenth century and were called "entrudo."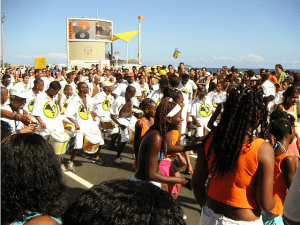 Today these "block" parades are how the majority of Cariocas celebrate Carnival. There are literally hundreds of them and they can start at any hour of the day, sometimes even at sunrise. Often it is very unclear as to when they start until they actually do.
This may have different reasons. Some blocos are so popular that literally tens of thousands flock to them each year, which then results in overcrowded streets. In order to avoid this as best as possible, some say the wrong times are announced on purpose. Others argue that it is part of the overall ideology that Carnival brings along with it; to tease and joke.
This is strongly indicated by the names that they give themselves, which are left to be interpreted in different ways such as the bloco in São Conrado called Ai, Que Vergonha, which translates "Oh, What a Shame" or the Jardim Botânico bloco called Suvaco de Cristo, which means "Christ's Armpit" as when one looks up at Rio's statue of Christ from the street, that is exactly what can be seen.
A further bloco in the neighborhood of Ipanema is called Empolga às 9, meaning "Excites at 9" and seems to have some sort of sexual connotation. Many of them, however, have no clearly specific theme, and their popularity is purely based on the neighborhood and the music that is played there.
This is where people of all ages and backgrounds come together to celebrate Carnival and enjoy cold beer, street food and Samba. "I love blocos", says Paula Netto, a Botafogo resident celebrating at the bloco Calma, Calma, Sua Piranha (Calm Down, You Bitch). "The diversity and the happiness… It's the best place to celebrate Carnival here in Rio."
Asked about why all blocos have varied time schedules, Eduardo Marques explains: "Well, this bloco started at 12 noon. So we drink all day until around 6PM, then have a break and go to another bloco at about nine or ten and continue there all night. That way there is always another party to go to."
Describing his funniest bloco experience he said laughing, "last year the Avatar movie came out so everyone was dressed up as the movie characters in blue costumes with blue make-up. It was crazy when people started to push around and everyone ended up blue from the paint. It was really funny."
The down side to the blocos are that some residents and business owners get annoyed with the noise and people urinating all over the streets, as the portable toilets provided by the state are located at one end of the parade and become hard to access.
Recently, Rio's mayor, Eduardo Paes, has implemented a new policy named Operação Choque de Ordem (Operation Shock and Order), which is meant to prevent people from urinating in the streets through a fining system.